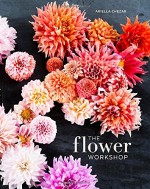 Flowers brighten a room and lift our moods whether they are used everyday or for grand occasions. Have you ever wondered what makes some flower arrangements sing to you while others leave you cold? Arielle Chezar's book, The Flower Workshop, may give you incite into what makes a great arrangement. Chezar's approach to flower arranging although not new is not part of the tradition that produces the arrangements you get from 1-800 FLOWERS. Her approach to flower arranging leads to the creation of dramatic and unforgettable designs and this book teaches you both her approach and the techniques needed to carry it out.
After explaining her concept of "painterly" arrangements and urging the use of seasonal and local material, the author describes the tools, techniques, and basic design principles. From there she presents seven tonal arrangements with step by step directions and a list of equipment and flowers needed. Each entry has a full color picture of the completed arrangement, the season in which the flowers are available, and a list of alternative flowers for other seasons. Other chapters present arrangements for the authors favorite flowers, branches, fruits and berries, handheld bouquets (including wedding work), compotes, and a variety of celebrations. The chapter on favorite flowers includes some old favorites like tulips and peonies but also some more unusual ones like hellebores and clematis. The chapter on flowers for celebrations has directions for two of the most unusual arrangements, a fern chandelier and a marigold curtain! Through out the book there are tips on such topics as how to forage for plant material, how to visit a flower market, and what plants to grow in the home garden for use in arrangements. The final chapter is a seasonal flower guide providing lists of flowers that are available in each season.
The author says in her introduction that her "book is meant to inspire." And it does. The arrangements are loose and Romantic with a beautiful balance of color and texture and can serve as a model for arrangers. Perhaps they can be copied using the directions in the book but probably only with difficulty for most armature arrangers because of their complexity. If you want inspiration to create arrangements of your own, however, this book has a place on your bookshelf.
To buy The Flower Workshop from Amazon.com Click Here.