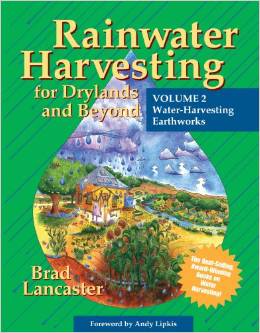 Whether you live in the desert, the Pacific Northwest, the East or anyplace in between, the management of water resources is important and is becoming more so as demand increases. Brad Lancaster's book, Rainwater Harvesting Vol 2 Water-Harvesting Earthworks, builds on the principles of water harvesting presented in volume 1 and offers a how-to guide for creating a variety of simple, inexpensive structures to passively harvest rain water, runoff, greywater, and air conditioning condensate. Detailed information is provided on methods and tools to create a landscape that will capture the maximum amount of water possible and put it to use.
The book begins with a reference guide that provides information on assessing a site's water flow and slope and includes a table that summarizes and compares all earthwork strategies that are detailed in subsequent chapters. The ten chapters that follow consider different kinds of earthwork strategies: berm and basins, terraces, french drains, infiltration basins, imprinting, mulching, replacing hardscape with permeable paving, diversion swales, check dams, and vegetation. In each case the earthwork strategy is defined, and information is provided for its location, implementation, and maintenance. Each chapter ends with stories that show how people in different areas of the country have used the techniques described.
The final chapter discusses how to integrate greywater harvesting with rainwater harvesting strategies to provide water during the dry seasons. Using these methods, waste water can be turned into a water resource when water is most needed. An epilogue provides a synthesis of all the material presented and encourages the reader to continue to seek new ways of harvesting water. Three appendices give specific information on waterflow patterns, simple tools for measuring slope and planing earthworks, calculations for sizing earthworks, appropriate vegetation, and additional resources for rainwater harvesting and permaculture. Highlighted boxes throughout the book provide information on a variety of topics such as calculating optimum terrace width, monthly water requirements for evergreens, and the legality of greywater.
Lancaster's book is simple enough for the layman but contains ideas and concepts that are valuable to anyone interest in or working with water and the landscape. Copious diagrams and pictures aid in understanding the material and case study provide inspiration and motivation. This is not a coffee table book; it is not pretty, it contains no color photos or pictures, and does not have glossy pages. Instead, it is a thorough, well written, and mega-resource for managing rain water by means of earthworks and deserves a special place in the reference library of everybody concerned with water resources and the environment.
To buy Rainwater Harvesting for Drylands and Beyond (Vol. 2): Water-Harvesting Earthworks from Amazon.com click here.