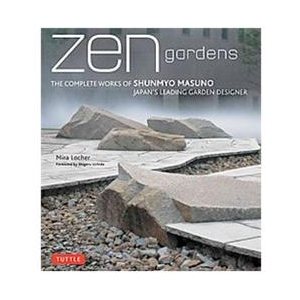 Shunmyo Masuno, "wearing two pairs of straw sandals", is both a Zen Buddhist priest and landscape architect. He has combined his talents and interest to design Zen gardens in both traditional and contemporary styles. Mira Locher's book, Zen Gardens, presents thirty-seven major gardens of Shunmyo Masuno from around the world, varying in style and settings from temples to ultra modern hotels. By reading the text with its abundant illustrations readers can gain a better understanding and appreciation of the essence of a Zen garden and its evolution from the its thirteenth century origins to its modern form combing traditional and contemporary elements.
The gardens are organized into three groups. The first group deals with the gardens that Shunmyo Masuno designed in a traditional style. The author notes that Masuno emphasizes the design of the atmosphere of a place, rather than the shape of a space or object, and does so using traditional materials and compostional devices. The second group of gardens are those created in a contemporary style that illustrate the way Masuno reinterpretes garden elements. Instead of traditional pea gravel, for example, Masuno may use stone pavers, or an expanse of grass to play the same role in the garden. The third group of gardens are the ones Masuno created outside of Japan. As the author states, two significant changes must be made in Masuno's garden design concept. The first relates to the non-Japanese audience and the second to the selection of materials that must take into consideration the location of the garden and its environment.
As the discussion of the gardens unfold the reader becomes more familiar with the principles underlying the design of zen gardens and sees how the creativity of Masuno handles the challenges of creating them. Whether designing a zen garden for a hotel, office, campus, or private residence, Masuno's gardens always respond to the particular site and environment but in new and exciting ways. The text is richly illustrated with over four-hundred photographs and diagrams of the gardens and includes an interview with Masuno. Locher's Zen Gardens is a valuable resource for anyone interested in zen gardens and the new directions they are taking.
a href="http://www.amazon.com/gp/product/4805311940/ref=as_li_tl?ie=UTF8&camp=1789&creative=390957&creativeASIN=4805311940&linkCode=as2&tag=karensgardentips-20&linkId=NDCYJOTU2YP27IKU">To buy Zen Gardens: The Complete Works of Shunmyo Masuno, Japan's Leading Garden Designer from Amazon.com click here.
<