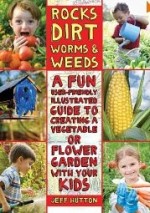 Helping children appreciate the wonder of nature and the merits of gardening is a long lasting legacy parents and grandparents can pass on to their children and grandchildren. Jeff Hutton's book Rocks, Dirt, Worms, and Weeds, provides easy ways to share knowledge and enthusiasm with children by providing ideas for projects and activities along with background knowledge a child can easily understand.
The author takes a seasonal approach and explores the activities that can be done in each. Spring begins with equipping the new young gardener and directions are included for making a soil sampling kit from a soda bottle, two different kinds of rain gauges, and seed starters from egg cartons. A section on creating a vegetable garden includes suggestions for theme gardens, creating a worm bin, and growing vegetables in containers.
Summer begins with a focus on the flower garden and descriptions of easy to grow flowers for both sun and shade are provided. Projects like making a sunflower maze, pressing flowers, and planting for butterflies and birds are presented along with suggestions for setting up a rain barrel, creating a roof garden, and building bird houses and feeders. An especially well developed section deals with creating garden art with rocks, sticks, vines, and scrap wood.
Fall is harvest time and pumpkins and gourds take center stage. It is also the time for planting bulbs and cool weather vegetables along with putting the garden to bed and setting up a compost bin and each of these activities is described. Winter activities focus on such activities as setting up a window garden, snow and ice sculpture, and measuring wind and snow fall. Remember all the pressed flowers from the summer activities? Use them on hand-made sheets of paper fashioned according the Hutton's directions and send them as greeting cards.
Hutton's book is lively and full of ideas to create fun and excitement. Just enough gardening information is given to pursue the activities but not enough to be a guide for the neophyte to start a garden. The information that is presented is more to stimulate children's interest in gardening than to provide a basic gardening text. Over one hundred color photographs and drawings enhance the text and add to the lively feeling of the book.
To buy Rocks, Dirt, Worms & Weeds: A Fun, User-Friendly, Illustrated Guide to Creating a Vegetable or Flower Garden with Your Kids from Amazon.com click here.