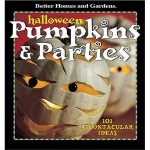 If you are having trouble coming up with great ideas for Halloween this book is a great source of ideas. It includes directions for all things associated with Halloween from decorations to food. Whether planning a party, organizing a neighborhood get together, or just making Halloween a special occasion for the family, there are lots of ideas to get you started, keep you going, and spur you on to create a whole new idea of your own.
Different sections of the book provide ideas for pumpkins carving, party decorations and accessories, food, costumes, party invitations, and Halloween cards. Stencils and step-by-step directions are provided for carving jack-o'lanterns such as a mummy, bat, owl and witch's cat as well as for making a pumpkin into a critter lodge, Cinderella's carriage, and Peter the Pumpkin Eaters abode. You can also learn how to add to the Halloween fun with items like a pumpkin wreath, candelabra of small pumpkins, a king and queen of Halloween, and a skeleton's head pinata. And when it comes to making special foods for Halloween the book really goes all out and provides numerous recipes for fabulous and gruesome treats like gremlins ears, eyeballs, batwings, body parts pizza, and buggy pasta. Special foods, of course, call for special table decor, and directions are provided for making spiderweb coasters, goblin goblets, happy bones tumblers, and eyeball enhanced cutlery. Halloween would not be the same without costumes, and directions are given for several including Willy Wizard, Bootiful Bat, and Hazel and Broomhelida witches. The final section of the book shows you how to create pop-up Halloween cards and spooky party invitations.
There are so many ideas and projects in this book that everyone can find something to make their Halloween special. The directions are easy to follow and use common items that are generally easy to find in the stores. All of the projects are fun and upbeat and many of them are easy enough that the kids can join in on the fun of making them to create a festive holiday for the entire family.
To buy Halloween Pumpkins & Parties: 101 Spooktacular Ideas from Amazon.com click here.