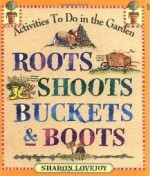 One of the great pleasures in life is sharing the love of gardening with children. Most of them naturally like the idea of digging in the dirt and delight in the many new experiences gardening has to offer. They are attracted to colorful flowers, active critters, and pleasing fragrances so sharing a love of gardening is easy. Sharon Lovejoy's book, Roots, Shoots, Bucket, and Boots serves as a guide to help and inspire gardeners impart their love of plants and enthusiasm for gardening with children.
The title of the book itself suggests the fun nature of the experience that unfolds in its pages. Inside the book, the earthy pages, casual typeset and colorful, whimsical sketches create a playful mood that draws both adults and children into the adventure that follows. The text is organized around theme gardens complemented by a section on garden basics and a list of 20 top plants for kids.
Nine theme gardens are explored: pizza patch, sunflower house, bucket, boxers and boot gardens, snacking and sipping garden, moon garden, flowery maze, giant plants, nature's medicine chest, and Zuni waffle garden. Each theme garden is presented with ideas for planning, creating, maintaining, and enjoying the garden. Directions are given for creating  many projects including a sunflower stalk hotel for bees, a water garden in a rain barrel, and dream pillow of lavender flowers and lemon balm. The wonder of nature can't help move readers as they learn that butterflies taste with all six of their feet, that temperature can be estimated by counting cricket chirps, and that the stems of horsetail were used to scour pots by native American women. Every turn of a page offers new facts, ideas and suggestions to make gardening more fun for everyone, old or young.
If you are not an experienced garden but want to begin a gardening adventure, check out the last section of the book on gardening basics first. It contains all you need to know about planning, starting, and maintaining a garden in a very simple way. It is written with the intent of presenting the concepts to children so should be an easy way to learn what you need to know. And if you are an experienced gardener, the garden basics section will be helpful in guiding you as you lead the way.
If you get a thrill out of being in a garden Lovejoy's book will give you ideas for imparting the wonder of nature. As she points out, the only rule for enjoying the garden experiences is that there are no rules because Mother Nature is unpredictable. And that is what makes every day in the garden an adventure.
To buy Roots, Shoots, Buckets & Boots: Gardening Together with Children from Amazon.com click here.