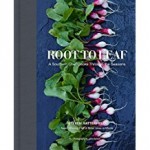 If you are familiar with the term "nose to tail' you will appreciate Steven Satterfield's book Root to Leaf that reflects the same approach to cooking. With a concern for eating the freshest vegetables and fruits each season has to offer, Satterfield believes in making the most out of the entire plant, and offers suggestion and recipes for enjoying vegetables in a new way. Omnivores, vegetarians, and vegans will find many delicious treats among his 175+ recipes all created with a Southern flair from locally produced or collected ingredients.
The book is organized by seasons and then alphabetically by vegetable or fruit from acorn squash to zucchini and including nuts. Each ingredient is introduced with information on available varieties, and buying and cooking tips, as well as personal anecdotes drawing on the author's extensive experience as restaurateur and chef. A helpful paragraph that includes background information introduces each recipes and gives way to a list of ingredients and a paragraph or two in directions. The recipes come from a variety of traditions but many reflect the Southern ingredients and style of cooking. There are recipes for spring garlic bagna cauda, tatsoi and Asian pear salad, and smoky ratatouille as well as corn pudding, greens gumbo, and slow simmered field peas. For desserts there are such goodies as beet red velvet cake, pecan-caramel chocolate tart, and rustic apple tart.
Root to Leaf is a very down to earth kind of book that includes a lot of solid recipes for fruits and vegetables that can be used for family meals or for company. They require easily obtainable ingredients many of which are pantry staples, and employ simple cooking methods that even beginning cooks can handle. Numerous color photographs enhance the text but are not labeled and sometime leave the subject in question. Too bad because a picture can be a big help when preparing a dish.
To buy Root to Leaf from Amazon.com Click Here.