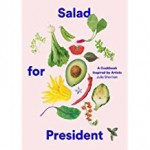 Have you ever noticed a link between a salad and art? Probably not and Julia Sherman's book ,Salad for President, will get you thinking about it. Sherman approaches salad making with an artist's creativity that makes something new and wonderful out of the familiar and urges her readers think like an artist, borrow ideas, and break rules. She present seventy five of her own salad recipes along with interviews and contributions from artists such as ceramicist Yui Tsujimura, painter Madeleine Fitzpatrick, and architect Harry Gesner.
The recipes are organized in categories: breakfast; comfort food; appetizers and sides; the main course; special occasions; and cocktails, soups, desserts and other. Each recipe includes an anecdote about the salad with tips on ingredients and/or cooking techniques, a list of ingredients, and step by step instructions. Many of the recipes also include a full page photograph of the final product. Personal favorites are: melon ribbon with olive oil crispy sage, and sea salt; celery root with anchovy-caper vinaigrette, and crispy yucca spears with toasted fennel seed and pepita pesto. Some recipes have one or two ingredients ingredient that might require a bit of searching, but many are more pantry-friendly. Cooking techniques are manageable by newbies.
Salad for President is a unique look at salad making and even if you don't buy into the connection between it and art the recipes have a lot to offer. The peak into the life of the artists is also illuminating and makes them seem more human and appealing. Visually attractive the book is a enjoyable read even if you don't cook.
To buy Salad for President from Amazon.com Click Here.