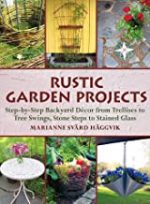 Marianne Svard Haggvik, owner of a garden design company in Sweden, shares her ideas for garden projects that create unique personalized spaces within a garden.  The projects are in  eight chapters based on the material and techniques used: braided willow, caste concrete, carpentry, stone and mosaic, stone and bricklaying, glass, welded iron, and bent iron, steel, and wire.  Each chapter includes an introduction to the material and then step by step instructions for several projects, each with a list of materials and tools as well as a photograph of the completed project.  Scattered throughout the text are interesting tips and facts plus suggests for plants to complement the projects.   The chapter on braided willow includes instructions for a container garden basket, a climbing plant trellis, a circular sweet pea plant support, a twisted willow tree,  and a fan trellis while the chapter on glass has instructions for eye catching plant supports and a glass birdbath. Some of the more  ordinary inclusions are the driftwood tool rack, swing for two, and concrete stepping stones but the lion's head fountain, brick ruin inspired by Angkor Wat, and a spider web bird feeder offer more unusual possibilities.  One of the most whimsical offerings is the chair made out of pine branches that appeals because of its quirkiness.
The shear number of projects is daunting and there is no doubt more than one that will appeal to every reader.  The text is well written and the instructions clear and easy to follow if you are familiar with the tools and techniques employed but a glance at the end section on tools reveals that some pretty heavy duty work is involved for at least some of the projects.  In addition, some of the materials, like willow twigs, may be difficult to find.  The metric system is used throughout the book and the plant suggestions as well as the landscape ideas may be more suitable for a cool climate than warm.  Even with these caveats, I highly recommend the book for the information it pulls together and the wonderful projects it highlights. It can serve as an inspiration or guidebook for gardeners wanting to make their garden a personal statement.
To buy Rustic Garden Projects from Amazon.com click here.