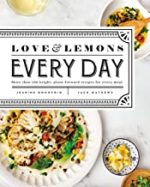 If you are considering adding more vegetables to your diet, Jeanine Donofrio's book, Love & Lemons Every Day, provides a wide array of plant based recipes for snacks, breakfasts, soups, salads, main courses, sides, desserts, drinks,  pickles, sauces and spreads. Drawing from the traditions of many cuisines, Donofrio offers over 100 recipes for such tasty treats as beet muhammara dip, lemon risotto with trumpet mushroom "scallops", and soba noodle picnic salad with tahini miso.  Although most of the recipes are vegan, vegan options are given for vegetarian recipes that include dairy or eggs.  Old favorites are updated and new combinations of flavors are created a cookbook that should appeal to omnivores as well as herbivores.
After an introductory chapter on plant based protein, equipment, and cooking tips, the author moves on to the recipes section. Each recipe has a full page color photograph of the completed dish, an introduction that gives background information and cooking tips, a list of ingredients on one side of the page and step by step directions on the other side, serving size, and an indication of whether the recipe is vegan and/or gluten-free.   Sometimes tips for cooking or freezing the dish are included.   Some of my favorites recipes are the sesame ginger avocado fennel salad, the baked red lentil falafel, and the vegetarian portobello Ruben sandwich, but the two page spread on making various kinds of date bars won my heart as well as my stomach.   Sprinkled through out the recipes sections are special features such as the basics of building a snack board, a giant grid of salad dressings, and charts for roasting and grilling vegetables.  The book concludes with suggestions for special-occasion menus.
The directions are easy to follow and the ingredient list is approachable with only a few that might not be in the local grocery store.  Some recipes use the standard vegetarian meat substitutes such as tofu, but most do not.  The layout of the book is attractive but the small light colored font is hard on the eyes.  That being said, Love & Lemons Every Day is a great resource for anyone wanting to eat more plant based meals.
To buy Love & Lemons Every Day from Amazon.com click here.