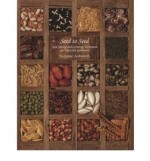 Whether you want to save vegetable seeds to save something special or obtain unique plant material that is not available commercially, seed saving is a successful and rewarding way to do it. Suzanne Ashworth's book, Seed to Seed, presents information gathered from many sources and experts to enable gardeners to save both the common and obscure vegetables grown in the United States and Canada. The book is comprehensive enough to be valuable to both the novice and the experienced seed saver and includes specific information for the seven major growing regions of the United States to provide gardeners with techniques appropriate to their particular growing conditions.
After an introduction to the subject of saving seeds including basic techniques employed, the author goes on to describe the specific techniques for saving the seeds of 160 vegetables. For each vegetable, detailed information is given on botanical classification, flower structure and pollination, isolation distance, population size, caging or hand-pollination, and the best methods to grow, harvest, dry, clean and store the seeds. You can learn, for example that bitterness in cucumbers is genetic not a result of a lack of water, that beets and chard will cross with each other, and that you can eliminate many tomato disease by duplicating the natural fermenting process when saving the seeds. Ashworth tucks in all kind of informative facts to help you understand the steps of involved in seed saving as well as provide specific instructions.
If you intend to save seeds this is a "must have" book. It contains all the information you need to save a huge variety of vegetable seeds written in a clear, no-nonsense style. It does not cover most grains and herbs, and inevitably someone's favorite vegetable will not be found, but with 160 vegetables covered, most needs and wants are met. This book is not full of glossy, colored pages of pictures and not suitable for a decorators coffee table but would be very much at home on the shelf of a home library.
To buy Seed to Seed: Seed Saving and Growing Techniques for Vegetable Gardeners from Amazon.com click here.