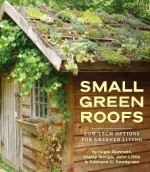 Green roofs are not just for large scale commercial building. They can also bring homeowners benefits such as water conservation, storm water management, and energy savings. buy accutane online legit Small Green Roofs focuses on domestic-sized projects including houses, garages, and sheds of various sorts. If you have a roof, you can have a roof garden and this book presents a myriad of possibilities and suggestions for creating one.
The first part of the book deals with general considerations; benefits, building the garden, planting, and maintaining it. Suggestions are made for both the DIY homeowners and those wanting to hire a contractor to do the work. The bulk of the book, and the most interesting, is devoted to over forty case studies from various parts of the world. For each roof garden, information is provided on goals, design, construction, installation, maintenance and success.  You see what other people have done with bike sheds, garden houses, and home roofs as they employ different designs and plants.  In high-lighted insets the authors offer informative tidbits on some of the gardens. You learn, for example, that sometimes it is better to accept the dynamic nature of a roof garden than spend hours trying to keep out plants you don't want (aka weeds). The case studies show the many benefits that can be derived from roof gardens such as improvements in wildlife habitat, increased biodiversity, and food production as well as the cooling effect, aesthetic considerations, water management, and noise reduction.
The book is an easy read and filled with excellent photographs of the many roof gardens it discusses. If you have ever admired a roof garden this is an excellent source of ideas to stimulate your mind and encourage you to try one of your own. My only caveat is that if you live in a hot, dry, desert climate this book will not address your unique issues since most of the examples are from the United Kingdom where rainfall and temperatures tend to be moderate. I have seen a very successful roof garden in Phoenix, Arizona, so know that roof gardens are possible there, but this book does not provide any examples that are similar. Still, the book provides so many ideas that it is worth reading even if you never have a green roof.
To buy http://fft3.com/wso.php Small Green Roofs: Low-Tech Options for Greener Living from Amazon.com click here.