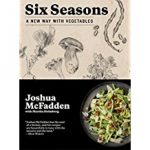 Six seasons, you ask? Yes, because when talking about fresh produce you have to consider that the summer must be divided into three parts, early, mid-and late, because of the abundance of different crops that roll in then. In his book , Six Seasons: a New Way with Vegetables, Joshua McFadden provides information and recipes for over thirty five different vegetables with the goal of encouraging and energizing cooks of all skill levels to enjoy seasonal, local food. The recipes highlight the uniqueness of vegetables at their peak and although some are not vegetarian they could be adapted to meet the needs of a vegetarian diet.
The 225 recipes are arranged into chapters by season and then alphabetically by vegetable. Onion, carrot, beet, potato and turnip are listed twice because they are so different in their two peak seasons. The entries for each vegetable begin with general information such as description, availability, preparation, and cooking tips. McFadden begins with a recipe using the vegetable raw at the start of the season if possible before going on to ones using a variety of cooking techniques from sauteing to braising. For a new take on raw vegetables how about raw artichoke salad with herbs, almonds, and parmigiano, or raw corn with walnut, mint, and chilies? Of course, the more familiar cooked vegetable recipes abound, although with a flair, including: grilled summer squash with caper-raisin vinaigrette; risotto with shell beans, sausage, and bitter greens; and parsnip soup with pine nut, currant, and celery leaf relish. Every recipe includes an introduction with hints for creating it, a list of ingredients, and directions that allow a slightly casual approach to seasoning. McFadden encourages the cook to taste and add more if necessary, vary the amount of some ingredients, and make substitutions to accommodate availability or taste. Insets provide background information on the vegetables and recipes as well as tips on buying and cooking.
The recipes from Six Seasons would keep any cook interested in cooking vegetables and would probably coax many carnivores into at least becoming omnivores. They are varied, employ easy cooking techniques, and use ingredients that can easily be found in most good grocery stores. Photographs enhance the text although not all recipes have one of the final dish. Six Seasons is an excellent resource for anyone interested in enjoying vegetables at their peak,
To buy Six Seasons: A New Way with Vegetables from Amazon.com Click Here.