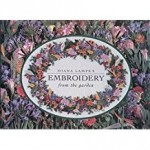 Inspired by the flora of South Africa, Diane Lampe's book Embroidery from the Garden presents forty eight embroidery designs suitable for using in many varied projects. Some of the flowers are unique to South Africa but others like Birds of Paradise, gladiolus, and calla lily, are popular around the world. Designs for a butterfly and two pots as well as directions for several projects are also included along with general embroidery instructions and an illustrated stitch glossary.
The three most interesting projects are The Strelizia Garden, The Protea Garden, and The Wreath of South African Flowers. The Strelitzia garden has many favorites such as lily of the Nile, Clivia, Gazania, red-hot poker, and calla lily; The Protea Garden features flowers in shades of pink including belladona lily, wild iris, pineapple lily, wild geranium, and arum lily. The Garland is a multi-colored arrangement of greens and flowers including black-Eyed Susan, society garlic, asparagus fern, Gerbera, and marguerite. Detailed directions are given to complete each project and design with DMC thread. Working with the designs in this book is a wonderful introduction to the flora of South Africa as well as a unique experience in embroidery.
To buy Embroidery from the Garden from Amazon.com Click Here.