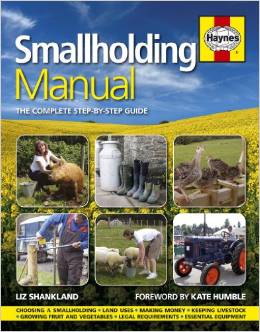 We all have dreams for the "Good Life"; for some of us it is a house in a rural area with an acre of land, for others it is a mini-farm complete with outbuildings and livestock. If a small amount of land is part of your dream, Liz Shankland's book, Smallholding Manual, offers food for thought and practical suggestions for securing your dream.
Based on her own experience with obtaining and running a smallholding, Shankland writes from the heart, giving advice on all aspects of the subject. She begins by discussing the pros and cons of taking on a smallholding, pointing out the commitment that it entails and the issues that might arise with loved ones. Her discussions on finding the perfect place and the legal issues of owning property and livestock are followed by a consideration of essential heavy equipment. Suggestions for growing fruits and vegetables include extending the growing season with a greenhouse or polytunnel, and planting an orchard. The section of livestock is the most extensive and starts out by posing some important questions like could you kill an animal if it had to be done and no one else was around to do it? The section continues by offering suggestion on how to buy livestock, and describing the important aspect of raising birds, bees, sheep, goats, pigs, cattle, alpacas, llamas, and exotics like rheas, and wild boars. Subsequent sections deal with growing feed for livestock, selling produce, eco-friendly farming, practices, and showing livestock.
The great value of this book is providing an overview of the issues involved in owning and farming a smallholding. The dream of farming a smallholding can quickly become a nightmare if a person is not fully aware of the amount of work and commitment it involves. Shankland's book presents the potential for fulfillment with a smallholding but also forces the reader to think about what is involved. It is an important resource for those people who are exploring the possibility of buying a smallholding but more specific information on the various aspects of farming would be needed if the dream becomes a reality.
To buy Smallholding Manual: The Complete Step-By-Step Guide from Amazon.com click here.