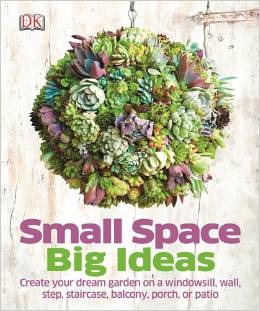 You might think your backyard, patio, or balcony is too small for a garden but author Philippa Pearson will prove you wrong with her book, Small Space Big Ideas. In fact, even if you have no garden space at all, Pearson will show you how to grow plants that will enliven and brighten your life. Using simple materials and equipment, Pearson presents a wide variety of projects that are easy, fun, and rewarding.
Over forty projects are presented each with detailed step-by-step directions using many everyday materials you already have. Beginning with microgardens, Pearson gives directions for such novelties as cake tin garden for hanging on a wall, salad greens in a colander, and a tabletop water garden. Other chapters focus on unique hanging containers including balcony saddlebag, tea set and tray, and a chandelier. To explore to potential of wall hangings Pearson uses containers made of such items as picture frames, mirrors, and plastic gutters. Other projects involve growing fruits and vegetables in containers of various sorts, and attracting beneficial insects and birds. The final section of the book deals with choosing plants, garden styles, equipment, and plant care.
If you have a creative bone in your body this book will appeal to you. The projects are novel, exciting, and stimulate creativity. The directions are easy to follow and are accompanied by photographs that make every step clear. Lots of great ideas for those both with limited space or wide-open spaces.