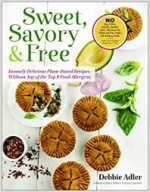 Do you have concerns about food allergies and how to cook for them? If so, Debbie Alder's book, Sweet, Savory, & Free may be the answer to your questions and prayers. Prompted by the severe reaction of her son to casein, Alder set out to write a plant based cookbook of recipes that are free of oil, gluten, refined sugar, and the top eight food allergens (dairy, eggs, peanuts, tree nuts, soy, wheat, fish, and shellfish). She found inspiration in the food and ingredients of Asian, Indian, Greek, Italian, Eastern European, Middle Eastern and American cuisine to develop recipes that would appeal to a large variety of palettes.
The introductory chapters describes the equipment and ingredients she uses with explanations of her choices, and gives recipes for homemade staples such as sriracha, Parmesan cheese substitute, and sunflower seed butter. Subsequent recipes are presented in chapters that include breakfast foods, soup, meals in muffin tins and ramekins, main courses, sides, breads, and desserts. Some of the more intriguing recipes are quinoa and kale breakfast burritos, Cannellini cupcakes with whipped parsnip and hot 'n spicy yakisoba. The spanakopita enchiladas, krab kakes, and spaghetti squash chow main, however are standouts too.
The recipes are presented with a large full color photograph of the prepared dish, a list of ingredients, and step by step instructions. The photographs are spectacular and definitely a big plus in getting people to try the recipes. The dishes require average cooking ability and most people with determination could be successful. The only problem I had was obtaining some of the ingredients. Psyllium husk powder, erythritol, and coconut aminos are not in my grocery shopping experience and securing them is problematic. If you are vegan or have issues with foods, however, this book is a great source of creative and delicious cooking.
To buy Sweet Savory & Free from Amazon.com Click Here.