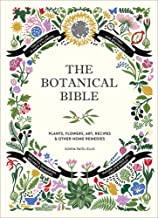 If you are interested in plants or just appreciate their beauty or usefulness, The Botanical Bible is sure to appeal. Written by Sonya Patel Ellis, writer, editor, and artist who works primarily with pressed botanicals, the book touches on a myriad of subjects pertaining to plants from the scientific to the artistic. Readers should be prepared for an adventure into the world of plants that brings varied interests together to enhance the appreciation of the diversity, utility, and beauty of the plant kingdom.
The Botanical Bible begins with a discussion of the evolution of plants from cyanobacteria, through mosses and ferns, to flowering plants with all the main phyla/divisions in between. This is followed by a description of the 8 major biomes, and a history of the relationships between plants and people. A meaty chapter on plant morphology, anatomy, and physiology gives an overview of basic botany and is followed by a section on plant taxonomy, the botanical classification of plants. At this point the text changes focus and begins to develop the idea of nature as a home and humanity's ongoing relationship with it. Activities such as gardening and foraging are discussed and chapters provide sweet and savory recipes, botanical remedies for a range of ailments and beauty issues, and ideas for botanical arts and crafts.
The book is written with an artist's sensitivities and the author's love of plants comes through on every page. Diagrams, paintings, sketches, and photographs enhance the text throughout the book and are a visual delight. Numerous insets called "Make the Connection" are included to further explore or illuminate the text. The Botanical Bible is a treasure trove of ideas and facts about plants and a good starting point for readers interested in the botanical world and developing a bond with nature.
To buy The Botanical Bible from Amazon, click here.