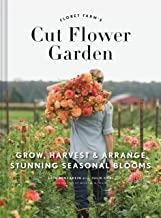 Floret Farms' Cut Flower Garden, by florist and flower farmer, Erin Benzakein, provides all the basics for growing, harvesting and arranging flowers year round either for home use or to sell. Based on the idea that using local flowers and other materials when they're in season and most abundant, will result in the most beautiful bouquets, this field-to-vase approach reflects Benzakein's connection to nature and love for her flowers. The seasonal presentation of the material facilitates use by gardeners regardless of their climate.
The book has two major parts. The first goes into the basics of planning, designing, and planting, and includes directions for such basic techniques as starting plants from seed, providing support, pinching, and caring for cut flowers. The second part gives detailed growing and harvesting instruction for year round floral material with key tasks and instructions for projects.
The second part of the book is the most informative and full of Benzakein's unique tips and ideas and is organized by season. For each season, the author describes the tasks and gives specific instructions for planting, caring and harvesting the plants that grow in that season. Also included are the names of her favorite varieties and tricks to extend vase life. In all, over 175 plants are described and include vegetables and well as plants grown for foliage. Each season's chapter ends with step by step instruction for three projects from hand-tied bouquet and centerpiece to wreath and garland.
There are many books available to floral designers and others who love arranging flowers but few include so much valuable information on growing their own flowers. The field-to-vase approach focuses attention on the beauty of flowers as they develop and allows for more lavish and long lasting arrangements. The abundant photographs that accompany the text both instruct and add to its message. Floret Farm's Cut Flower Garden earns a well deserved place in my garden library!
To buy Floret Farm's Cut Flower Garden from Amazon, click here.