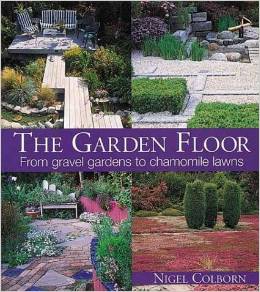 How many gardeners focus on the garden floor? I for one, take itfor granted and assume it will be grass unless there is a compelling reason to do something else. Nigel Colburn, however, feels differently and considers the garden floor an important feature of any garden. In his book, The Garden Floor, Colburn presents ideas and projects that can help you make the best use of all the open spaces in your garden and make them a major attraction in the garden.
After giving a detailed appraisal of the concept of the garden floor, Coburn turns to methods of evaluating what you have so that you can take advantage of existing features. He considers such elements as scale, proportion of ground spaces, shape, and layout before turning to the heart of the book, the many different kinds of floor material available from brick to chamomile, scree, glass beads, and recycled material. Over a dozen projects are described with step-by-step color illustrations and details on the materials and tools needed to complete the project. Special sections are developed to establish moss gardens, know gardens, and a thyme or chamomile lawn. Final chapters include decorating with plants and maintaining the garden floor. Color photos of gardens featuring different kinds of garden floors supplement the text. An good book for gardeners wishing to create a an interesting garden floor.
To buy The Garden Floor: From Gravel Gardens to Camomile Lawns from Amazon.com click here.