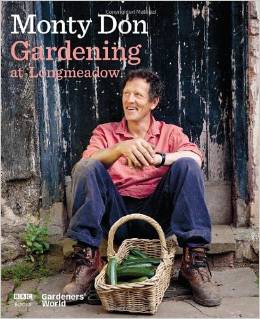 If you have ever wondered about the intimate details of an English garden and how the gardener started and maintains it, Monty Don's book, Gardening at Long Meadow will tell you. Don is a gardening columnist, horticultural writer, author of several books and organic gardener. He began developing his garden at Longmeadow in the early 1990s and has been working on it ever since, considering it a work in progress.. In his book he shares his garden experience at Longmeadow as an inspiration and guide for other gardeners.
Believing that successful gardening depends on working with the cycle of nature to get the most out of the soil and plants, Don organizes the journey through his garden on a seasonal basis and takes the reader month by month thought the various gardens at Longmeadow, describing the plants that appear and the important tasks that must be done in those months. He tells you about the green markings on snowdrop petals that glow in ultraviolet light and attract pollinators and gives specific directions with photographs to illustrate the process of planting onion sets. In a similar fashion, the author describes the hot border at Longmeadow in July, the ripe fruit in fall, and the Christmas greens in December as well as giving directions for pruning clematis, dealing with slugs and snails, coping with weeds, and root pruning. The book is a smooth blend of lovely garden images and down to earth advice on how to achieve a productive and beautiful garden. This book is an informative and pleasurable read for both gardeners that like to get their hands dirty as well as those who like to dream.
To buy Gardening at Longmeadow from Amazon.com click here.