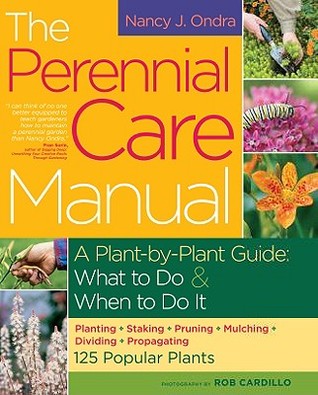 Some people may think that perennials are carefree but they are not. To have a well tended perennial garden is a labor of love and help is always welcome. Nancy J. Ondra's book, The Perennial Care Manual, is packed with good advice for new and seasoned gardeners alike that will help make everyday gardening tasks easier while creating a more beautiful garden.
The book is divided into two parts. The first deals with various techniques to get the garden going and keeping it growing well. Emphasis is placed on creating an easy care perennial garden so that time in the garden is fun rather than endless boring chores. General instructions are given for planning, planting, transplanting, watering, fertilizing, soil-building, mulching, staking, grooming, and propagating as well has identifying and curing various ills. An especially nice feature is the inclusion of calendars for garden chores so gardeners know when to carry out various jobs throughout the gardening season.
The second, and larger, part of the book is a plant-by-plant perennial guide that gives tips on caring for one hundred twenty five popular perennials. Whether you already have these plants or want to add perennials to the garden this section is a must. For each plant you will find plant descriptions and detailed information on light requirements, soil needs, common pests and diseases, propagation, growing tips, and season by season calendar care. This part is where you can find out when to divide your Baptisia (don't unless absolutely necessary), or how to propagate lavender (stem cuttings in spring and summer). Warnings are given about invasive plants and particularly difficult cultural problems are discussed.
The Perennial Care Manual is written in a simple, conversational style and richly illustrated with photographs that show gardening techniques as well as a myriad of plants. The pictures of pests and diseases are especially helpful when dealing with sick plants. Little tidbits highlighted in the margins provide helpful information to make gardening with perennials more successful. With so much information, this book is a great resource for building and maintaining a perennial garden.
To buy The Perennial Care Manual: A Plant-by-Plant Guide: What to Do & When to Do It from Amazon.com click here.