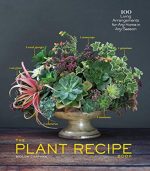 Gardener and floral designer Baylor Chapman presents 100 living arrangements in her work, The Plant recipe Book. Believing that everyone can bring a little bit of greenery inside no matter how small the space, Chapman uses a variety of plants and containers to create living arrangements that rival fresh ones but last longer and are sustainable because the components can be reused. Written for anyone who appreciates and enjoys plants this book offers a comprehensive look at container gardening for interiors.
After introducing the tools, soil considerations, containers, and plants, Chapman turns to the arrangements which are listed by main plant and arranged alphabetically from Aeonium to Xerographica. She presents 3 recipes for each plant starting with a very simple one and ending with a complex one that includes many plants. For each arrangement she lists light and water needs, potting mix, number and size of plants, container requirements, materials needed to complete the project, appropriate use of the completed arrangement, and step by step instructions for placing the plants in the container, including care, longevity, and reuse of the plants.
Many of the plants are familiar and can be found in garden centers or nurseries, while others may take some searching. The same is true of the containers but the greatest value of the arrangements is the inspiration they provide. You may not be able to find a certain plant or container but a substitute offers the opportunity to add a personal touch. Some the most appealing arrangements are the lipstick plant growing through a round basket, 3 different kinds of lichens in small glass jars, and earthstars on a branch of Harry Lauder's walking stick. Ideas abound and can be springboards for all sorts of new ideas.
To buy The Plant Recipe Book from Amazon.com click here.