Many of the plants growing in your neighborhood and own yard can provide you with a tasty feast if you know how to recognize them. Ellen Zachos' book, Backyard Foraging, introduces the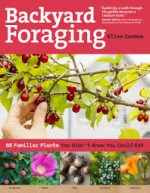 reader to ornamental plants and weeds that are both edible and opens up a whole new adventure in food. Believing that wild comestibles have outstanding flavor, unusual textures, fresh color, and nutritional value, she provides readers with what they need in order to forage safely and enjoy the bounty that Nature has provided.
Zachos describes sixty-five familiar plants proving information on how they grow, how to harvest them, and how to best use them. She arranges the plants categorically beginning with greens, moving on to flowers and fruits, nuts and seed, roots, tubers and rhizomes, and then to plants with many edible parts. Mushrooms stand alone. Some of the plants are garden favorites like daylily, beebalm, and hosta, but others are pesky weeds like chickweed, bamboo, and pineapple weed. If you have too much bishops weed you will rejoice to learn that the foliage makes a good spinach substitute an can be eaten raw in salads as well as cooked in spanakopita. Japanese knotweed not only makes a good brew but is very good for the health. If you have been unlucky enough to step on the fruit of a Ginkgo tree and experienced its loathsome smell you might feel better knowing that the nuts inside make a delicious snack or sweet Asian dessert. The book concludes with a chapter on preserving techniques and basic recipes.
Even if you never forage the information on edible plants is fascinating and well worth the price of the book. Written in a conversational style, the text in homey and personal, making you feel as though you were a friend in Zachos' backyard or kitchen. The author shares her personal experiences with the various plants and provides numerous anecdotes to give an overall sense of the value of the plants. Photographs help with identification and sidebars give information on a variety of topics including history of the plant, use in other cultures, and look-alikes to avoid. A great read!
To buy Backyard Foraging from Amazon.com Click Here.