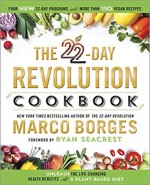 This cookbook by Marco Borges is a follow up to his book on a plant-based diet that he believes will lead to a healthier lifestyle, weight loss, and/or reduced risk of serious health issues. It provides four flexible programs and the recipes to carry them out. Two of the plans are for losing weight, two for maintain or building muscle. Based on the premise that it takes 21 days to make or break a habit the four plans aim to change eating habits and are adaptable and have flexible menus.
After explaining how to build a personal 22 day program and describing necessary kitchen preparations, Borges presents 150 recipes organized into four groups: Breakfast, main meals, snacks and spices, and desserts. Within each group he divides the recipes into light (relatively low calorie) and indulgent (relatively high calorie). Each recipe has a full page color photograph of the prepared dish, a list of ingredients, step by step directions, prep time, cook time, total time, number of servings, and calories pre serving with grams of protein, carbohydrates, and total fat. Light breakfast dishes include spinach and berry salad, avocado tomato bruschetta, and several smoothies. Indulgent breakfast recipes banana sushi, black bean hummus avocado tartine, and chocolate dream smoothie. One of my favorite light main meals is chana masala chickpeas, while the falafel bowl was my favorite indulgent main meal. The oven baked sweet plantains at 109 calories makes an appealing snack while the BBQ beans made an indulgent side at 194 calories. Dessert recipes included a light offering of brownie bites (69 calories) and an indulgent choice of raw lime pie (374 calories).
Well presented with a casual style and full of easy to make recipes, this cookbook offers a good way to start a new way of eating. The flexibility of the programs makes following the them doable and in only 22 days you can evaluate and continue or not. If you are interested in a plant based diet, this is a good choice for beginning a new lifestyle.
To buy The 22 Day Revolution Cookbook from Amazon.com Click Here.