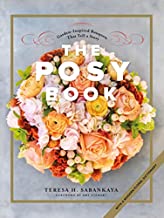 Terresa Sabankaya's recent work, The Posy Book, celebrates the Victorian love for the language of flowers with fresh ideas on creating bouquets that convey meaning and express special feelings. The author provides historical background, recipes for posies, general instructions for making a posy, resource directory, and an updated, modern dictionary for the language of flowers. The many photographs of posies, readable text, and straightforward directions brings together all the components needed to complete floral compositions that convey personal special sentiments for many different occasions.
The section presenting recipes for 22 different posies is the most inspiring. Sabankaya includes posies for various occasions from birthday, engagement and new baby, to welcome home, get well, and sympathy. Each entry expresses very different sentiments as expressed by the flowers in the bouquet. The recipes all include a list of ingredients with seasonal variations, tips for success, a creative tag with the meaning of the flowers, and two photographs of the completed bouquet, one with each kind of plant material labeled. The bouquets are dome shaped and feature flowers that are either grown in the garden or are easily available from vendors. A garden inspired posy celebrating friendship, for example, includes pink carnations for women's love, oak-leaf geranium for true friends, Euphorbia for protection, mint for warmth of feeling, alstroemeria for friendship, and peach colored roses for appreciation. Wonderful, complex feelings for a friend that are beautifully presented.
Perhaps the most valuable part of the book for making your own posy is the "New Language of Flowers Dictionary" which draws from historic and new sources to expand the number of flowers for posies to new varieties. Sabankaya points out that sometimes meanings may be contradictory but dismisses the problem by pointing out that only the pertinent sentiments can be listed on the tag. True, some of the meaning are Sabankaya originals, but so what? Personal additions is how the language of flowers has evolved.
The recipes for posies and "New Language of Flowers Dictionary" included in The Posy Book are very valuable and welcome additions to the modernization and use of the language of flowers. The photographs and suggestions for containers and designing the tags, enhance the text but the photographs could be improved. Although they provide inspiration, they have two noticeable, off-putting characteristics: many are partially out of focus (which I find distracting;) and the labeled photographs are positioned in the middle of a two page spread so that the center portion of the posy is inside the binding and can not be seen. Perhaps the focus problem is a matter of taste but the hidden center of the arrangement is more critical to success and could be solved by having just one (in focus) labeled photograph on a single page. That being said, I enjoyed the book and consider it a valuable addition to my floral library especially since I am partial to the bouquets that express sentiments.
To buy The Posy Book from Amazon, click here.