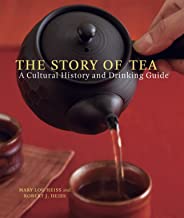 With 30 years of experience sourcing teas, tea merchants Mary Lou Heiss and Robert J. Heiss share their expertise in The Story of Tea. They have traveled extensively in the tea producing countries of the world as they pursued fine teas for their shop and have acquired a vast knowledge of the many varied processes that have resulted in tens of thousands of different teas all from three varieties of Camellia sinensis. The authors examine the influence of culture and traditions as well as terroir in creating the teas with unique color, flavor, and quality.
The book begins with a brief history of tea focusing on China but including Japan, Ceylon, and Africa it continues with a discussion of the three varieties of tea plant including the terroir, annual growth cycle, six classes of leaf manufacture, and eight elements of tea manufacture. More detail is provided for the manufacture of green, yellow, white, oolong, black, pu-erh, and scented teas. A journey along the tea trail to such places as China, Japan, India, Taiwan, Sri Lanka, Nepal and Indonesia provided descriptions of the the cultural aspects of tea and the uniqueness of the teas produced there. Profiles of over thirty tea varietals are given, followed by suggestions for purchasing, storing, measuring, and brewing the tea. Tea culture in major tea drinking areas of the world are described with a special focus on tea pots and bowls. Final chapters consider the health benefits of tea, ethics in the tea trade, 10 recipes using different teas, contact information for tea retailers, and a glossary of terms used to describe the appearance of tea leaves and the taste characteristics of brewed tea.
The Story of Tea contains a great deal of information about tea. A plethora of photographs enhance the text and help explain the cultivation and processing of tea as well as bring the text to life. Numerous insets flesh out the text with informative details and anecdotal tales that provide human interest. The book is very readable and but is sometimes overwhelming in the shear amount of information it conveys. At times, the organization of the material seemed a bit loose and could have been tightened up to reduce overlap and backtracking. In spite of this problem, the book is a good read and provides much valuable information for appreciating and enjoying the complexity and nuances of tea.
To buy The Story of Tea from Amazon, click here.