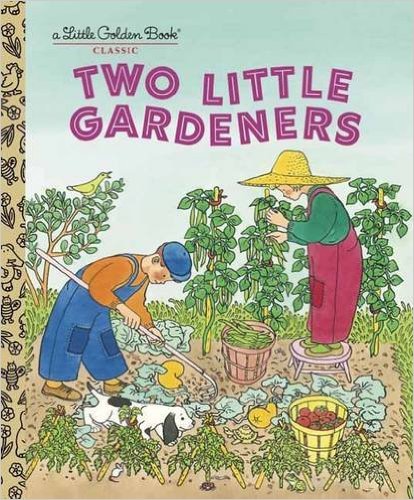 This classic Little Golden Book tells the story of a brother and sister who plant a garden in the spring, take care of it all summer, and enjoy the fruits of their labor in the fall. They have to prepare the soil, plant the many different kinds of seeds, protect the garden from the local wildlife, hoe out the weeds, and water the plants when there is no rain. Finally, the garden is full of vegetables and the children harvest the produce and cook up a big meal. Their garden is so successful they can not eat all the vegetables so can, dry, and store the surplus.
The story is very simple but filled with lovely details. We learn that seeds are different sizes, tomato plants have yellow flowers, and weeds can be prickly or feathery. The illustrations are equally filled with charming details; we see a mouse building a nest near a rabbit hole, the family dog curled up in the garden as the children work, and a frog basking in the shade of a weedy leaf. The joy of gardening fills every page even as the children weed, water, cook, and put up food.
Written for children age three to seven, grades preschool to two, the text has a pleasant rhythm that is sure to appeal to young readers. The illustrations are in bright colors and are full of life and energy. A song, Full as a Fiddle, written by the author, ends the book on a high note!
To buy Two Little Gardeners from Amazon.com Click Here.