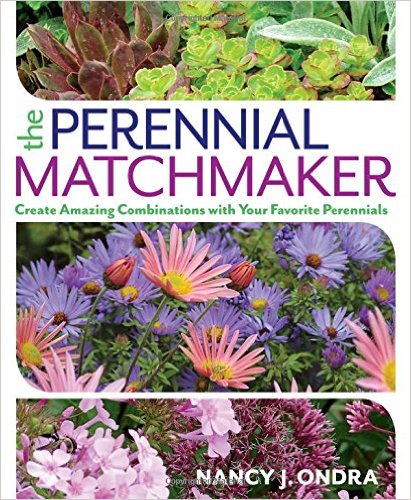 Beautiful plant combinations can make a garden memorable but such combinations are not easy to create. If your garden is like mine it is a hodgepodge of plants collected over the years. Some of the plants were bought on a whim, others because of "love at first sight", and others according to a plan but now they just limp along without distinction. Nancy J. Ondra's book, The Perennial Matchmaker, can help bring about change with its myriad of suggestions for plant combinations and her explanation of how to create combinations of your own.
Ondra begins with the premise that gardeners should build combinations starting with the plants that they already have or want . She provides entries for eighty common garden plants and shows how to build numerous combinations around each. The entries are arranged alphabetically by botanical name and begin with the common name, plant description including height and hardiness, time of bloom and attractiveness, and soil, water and light requirements. The discussion then turns to a consideration of color combinations giving specific cultivars of perennials, bulbs, and grasses and the rational for choosing them as companion plants. A similar treatment of the shape and texture of foliage and inflorescence, and a discussion of the seasonal features of the plant are followed by a list of "Bloom Buddies" with notes on regional differences, the authors "Perfect Match", and photographs of some of the combinations described. The amount of solid information included in each entry is amazing!
Of course you may want be more involved in the creative process and Ondra provides for that too. She explains how to look carefully at plants in regard to color, form, height, habitat, and texture and take into consideration site, climate, and season of interest when choosing companions. Finally, she takes the reader through the step by step process of using all these factors in eliminating the least interesting possibilities and ending up with the most suitable.
The book is beautiful illustrated with almost four hundred photographs of plant combinations and you could learn a lot from just looking at them. But don't stop with the photos because the text has so much more to offer. This is a top notch choice for novices or expert gardeners that want to build a border of beautiful plant combinations.
To buy The Perennial Matchmaker from Amazon.com Click Here.