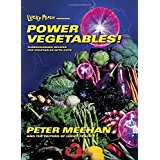 From the Lucky Peach comes Power Vegetables!, a collection of recipes focusing on vegetables. The self-proclaimed goal is to produce vegetable dishes that are awesome and the center of attention at a meal. The recipes do not contain meat but some have fish like anchovies, as well as dairy products and many are suitable for a vegetarian diet. Fruits are included but pasta and bowls of grain are not.
The collection includes a broad range of items from many different sources but all are done with with a unique twist that makes them special. Some traditional ones include hummus, tabbouleh, and hasselback potatoes. Less well known recipes are daikon with XO sauce, mushroom mapo tofu, and gomen wat. Although a number of ingredients are needed for many of the recipes, most are readily available . The directions are very clearly written and reflect the author's dictum that ease is power. Edgey pictures illustrate the finished product and comments on the recipes are entertaining as well as informative. A section called Power Pantry explains basic ingredients and more while insets feature interviews with chefs on their opinion of power vegetables. Whether you are a vegetarian or vegetable lover the book offers some delectable vegetable dishes!
To buy Power Vegetables! from Amazon.com Click Here.