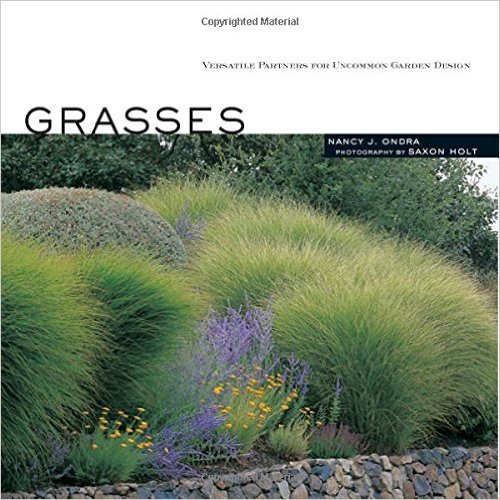 Ornamental grasses are becoming more and more popular for gardens as the desire for naturalistic gardens increases. Nancy J. Ondra's book, Grasses: Versatile Partners for Uncommon Garden Design, introduces the reader to the use of grasses alone or in mixed borders to produce stunning effects. Combining design principles with solid information on growing grasses, Ondra shows how grasses can create unique effects in a variety of conditions.
The author introduces the reader to grasses with a brief description of the nature of grasses and their common characteristics, pointing out that many plants like sedges, rushes, and liriope look like grasses but are not. She gives directions for planting and caring for grasses and grass look-alikes, and highlights the textural quality and lighting effects that grasses can bring to a planting. Focusing on color, Ondra shows a large variety of plant combinations using grasses, giving brief descriptions and cultural information for the specific grasses used which she designates as Designer Choices. In a similar fashion Ondra provides plant combinations for specific areas such as front yards, edgings of pathways, and pond edges, identifying Designer Choices and giving pertinent information. She also provides plant combinations with Designer choices for problem areas such as hot dry sites, shade, and slopes. A final section of the book gives lists of grasses that are especially useful for specific purposes, including color combinations.
The text is richly enhanced by photographs showing the plant combinations in site and close-ups of the Designer Selections. Insets give further information on topics such as invasives, pest problems, and deadheading. The book is not a directory of grasses and does not pretend to be; it's subject is designing with grasses and it addresses that topic exceptionally well.
To buy Grasses: Versatile Partners for Uncommon Garden Design from Amazon.com Click Here.