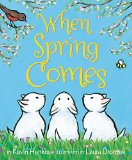 When the leafless trees, gray skies, and cold temperatures make winter days seem bleak and endless, the prospect of spring is joyous even though the wait may be long. Kevin Henkes book, When Spring Comes, explores the transition from winter to spring in terms that little ones can understand. Appropriate for children ages three to five, the lyrical text is enhanced with brightly colored illustrations that capture the spirit of the season.
Henkes first contrasts the black match stick-like trees of winter with the flowering trees of spring. As spring come closer a snowman slowly melts and brown grass turns green to greet the flowers that appear. Birds hatch, seeds sprout, rain comes and forms mud and puddles. Pussy willows, kittens, and children as well as bus, bees, boots, and bubbles join the scene. Sometimes Spring changes its mind for a short time but once it finally arrives, get ready to wait for Summer. With alliteration and steady rhythm, the book is a musical presentation of the coming of Spring.
To buy When Spring Comes click here.