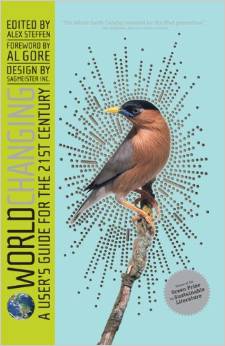 The gloom and doom journalism that we read constantly in the media can be unnerving but the book, Worldchanging, provides hope that these problems can be solved. A companion to the eco-friendly website by the same name (www.worldchanging.com) the book is a collection of articles that discusses the problems facing the environment and offers ways that individuals can use to help in solving those problems. The articles do not lecture but they do make you think and may inspire you to take part in building a better future.
The articles cover many topics and are organized into seven sections: stuff, shelter, cities, community, business, politics, and planet. The sections explore issues such as increasing the food supply with "smart breeding" and prairie-like farms, doing away with lawns in favor of plantings that promote biodiversity, and encouraging sustainably in government and business. Not all the issues are of special interest to gardeners per se, in fact, most are of general interest to all the people who are concerned about an economically and environmentally sustainably future. Many issues are controversial and will no doubt raise the ire of many gardeners and non-gardeners alike. The most important message, however, is that there are solutions to these problems; there are things everyone can do but they will take an adjustment in attitudes and a change in the way we think about existing conditions. The choice, of course, belong to each individual and WorldChanging provides possible suggestions for making such choices that can change all facets of the present day life from gardening to fighting poverty to promoting ethical business practices.
To buy Worldchanging: A User's Guide for the 21st Century from Amazon.com click here.