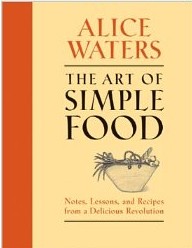 Based on the assumption that high quality ingredients can be cooked simply to produce extraordinary food, Alice Waters' book, The Art of Simple Food, introduces a unique way of cooking. Waters' outlook emphasizes the use of locally grown food when it is in season because that is how you will get the highest quality ingredients. This concept gives home gardeners a big advantage because they can grow their own vegetables and herbs but others can visit their local farmers' markets. Even pots of herbs on a windowsill, however, can change the way you cook, says Waters.
The book consists of two major parts. The first presents the basics: how to choose fresh ingredients and stock a pantry, equipment, cutting techniques, menu planning. The chapters that follow focus on essential cooking techniques such as making four essential sauces, salads, and baked goods, as well as sauteing, grilling, baking, poaching, and slow cooking. In each chapter Waters explains both the how and why of each technique so that the reader can better understand how to get the best results from the ingredients. For each recipes she includes one or more variations; the recipe for polenta, for example, includes variations with fresh corn, or fava beans.
The second part of the book is a more traditional cookbook and features Mediterranean cuisine.  It includes recipes for many favorites but with Waters' special twist. Following her emphasis on high quality, locally grown ingredients they feature recipes where the unique flavor of each ingredient takes on a new importance. What could more simple or delicious than garden fresh tomatoes, seasoned with sprinkled salt, with basil, and drizzled with olive oil? Of course, if you want a variation Waters' suggests adding fresh mozzarella, feta or queso freso or substituting mint, savory, marjoram or parsley for the basil. If you like egg flavor why cover it up when you prepare stuffed eggs? Waters' recipe calls for just salt and pepper, homemade mayonnaise, and Dijon mustard. Simple? Yes, but notice that the mayonnaise is homemade so maybe it's not so simple.
If you are interested in quick, inexpensive meals that are made with prepared foods this is not the book for you. Count on making your own pasta and bread and making visits to upscale markets and/or farmers' markets to gather the ingredients. And the ingredients aren't going to be cheap. Is it worth it? To many people it is, but finding the ingredients takes time and if you don't live in a urban area you may have to travel to find everything. With that caveat, I highly recommend this book. It introduces a whole new look at cooking and enjoying food.
To buy The Art of Simple Food: Notes, Lessons, and Recipes from a Delicious Revolution from Amazon.com click here.