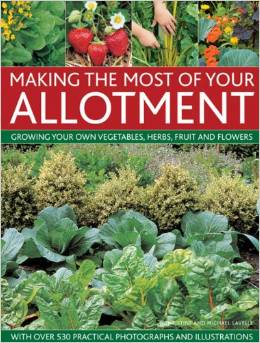 Just because you live in a city doesn't mean you can't grow some of your own vegetables, fruits, herbs and flowers. Christine and Michael Lavelle's book, Making the most of Your Allotment, shows novice gardeners how to sow, grow, and harvest produce from selecting the site to storing the abundance. Whether you are enticed by the prospect of having a productive hobby or getting in touch with nature, you will find valuable tips for making a success out of an allotment. In the US an allotment is most like a community garden but much of what can be said about allotments can be applied to the American idea of "mini-farm".
After a brief history of allotments in Britain, the authors consider the main principles and natural processes involved in growing plants and shows how gardeners can take advantage of nature's rhythms to optimize their gardening efforts. When discussing the choice of crops the authors give detailed advice on how to assess wants and needs as well as advice on crop rotation and companion planting. They go on to outline how to design the plot, describe the tools needed, and suggest frameworks and structures that might be wanted. A discussion of basic techniques such as soil preparation, propagation, watering, feeding, staking and pruning leads to a consideration of harvesting and storing the produce. The chapter on plant health outlines how to prevent, identify and treat pests and diseases as well as deal with weeds. A gardener's calendar with checklists of what to sow, plant out, and harvest in each month of the year concludes the work. Over 530 photographs and illustrations elaborate and enhance the text.
To buy Making The Most Of Your Allotment: Growing Your Own Vegetables, Herbs, Fruit And Flowers from Amazon.com click here.