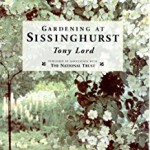 Tony Lord's book, Gardening at Sissinghurst offers readers a chance to learn how this amazing garden was created, maintaine and enhanced. Using the personal writings of Vita Sackville-West and Harold Nicolson as well as information from head gardeners at Sissinghurst past and present, Lord, details the design elements provided by Harold, the planting features provided by Vita, and the extraordinary result that sprung from the symbiosis of the two. Since Sissinghurst is always changing due to the need to accommodate and delight an ever increasing number of visitors from spring into fall, Lord takes the readers from the time Harold and Vita started the garden in 1930 to 1995 when the National Trust owned the property and Lord published the book.
The text is divided into chapters by individual gardens or areas: Top Courtyard, Lower Courtyard, Rose Garden, Lime Walk, Cottage Garden, Nuttery, Moat Walk, Herb Garden, Orchard, and White Garden with a final chapter entitled Behind the Scenes. Each chapter includes a history of the creation and evolution of the garden, a watercolor planting plan, description of key plants, and a discussion of maintenance techniques such as pruning, mulching, and disease prevention. Everything is accompanied with explanations for the choices made and their success or failure, which makes this book especially valuable for the home gardener. The text is enhanced by over 175 photographs from the garden all of which are titled and explained. Don't expect to be able to create a mini-Sissinghurst but do expect to gain an improved understanding of what goes into creating a iconic garden.
Gardening at Sissinghurst has so much to offer than anyone at all interested in gardening will find something to interest and inspire them. The text goes into considerable detail that the more intense gardener will appreciate while the pictures and storyline will appeal to all. This is one of the best books on a famous garden I have ever read and one that I will come back to again and again.
To buy Gardening at Sissinghurst from Amazon.com Click Here.