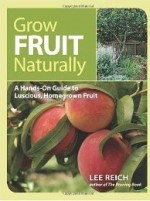 If you love fruit you might consider growing your own and Lee Reich's book Grow Fruit Naturally, is an excellent guide to help you. Written for the everyday gardener, the book aims to help people who want to enjoy the best possible fruit for their geographic location even if they only have a balcony for a garden space. When you grow your own fruit, Reich points out, you also can choose the variety that you particularly like and don't have to eat fruit that has spent days traveling and sitting in a supermarket. No transportation means less fuel consumed, so growing your own fruit helps the environment too.
The first third of the book is devoted to the basics of fruit growing: planning, planting and growing, pruning, pests and diseases, harvesting and storage. Practical information is given along with addition tidbits of interest presented in insets. When planning your garden, Reich recommends, keep things simple and select the fruits according to the existing condition in the yard. In an insert, however, he gives the readers ways of stretching the limits by creating microclimates that will support desired fruit that might not otherwise grow there. Citrus in Georgia? Maybe. Another insert gives information on how seedless fruits grow, and still another suggests ways of landscaping with fruit.
The second two-thirds of the book presents information for individual fruits, including extensive lists of plants and varieties, and descriptions of their unique characteristics. Thirty one fruits are considered, from the familiar apple and pear to the not so familiar medlar, and jujube. Of course you know about 'Winesap', 'Gala', and 'Corland' apples, but how about 'Esopus Spitzenberg, an old American variety and favorite of Thomas Jefferson? Actually, there are forty varieties of apple described, with their good points and bad so that you can choose the ones that best meet your taste, needs, and conditions. Fifteen different apricot varieties are described, nineteen varieties of avocado, and seven varieties of jujube (also called Chinese date). You get the point; there is more than ample information given to help you select just the right variety.
Some people think that growing fruit is difficult and Reich aims to de-mystify the process. He emphasizes simplicity so that fruit growing can be done within the constraints of time and space that plague most gardeners today. Everything you need to know to grow your own fruits is provided in this one volume.
To buy Grow Fruit Naturally: A Hands-On Guide to Luscious, Homegrown Fruit from Amazon.com click here.