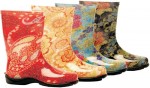 A rainy day in the garden can be a miserable experience but it doesn't have to be. There is no point sloshing around in the mud in some old shabby footgear if you don't have to. With a pair of colorful boots adorned with flowers you can look forward to a rainy day and greet it with enthusiasm. All those dreary garden chores that look even worse under cloudy skies take on a new dimension when you have your feet warm and dry in a pair of pretty boots. You don't garden in the rain? No problem, wear them as a fashion statement when you walk your dog or go to the mail box.
In addition to being cute and fun to wear, these boots have attributes that make them practical gardening boots. They are not as tall as traditional British boots, coming up to about mid-calf, and have wide openings that accommodate large calves, jeans, or both. The boots are sturdy but not stiff like some others, and have firm insoles for comfort. They are waterproof enough that you can wade in puddles if you want to and have a hefty tread on the soles to help you walk without slipping. A ridge on the back of the heel allows you to slide the boot off with your other foot. The boots come in whole sizes from 6 to 10 and are also available in solid colors including green, red, and lavender.  They make a great gift for birthdays, Christmas or Mother's Day.
To buy Slogger Floral or Paisley Rain Boots on Amazon.com click here.