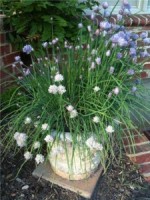 Growing onions might be something you associate with the vegetable or herb garden since chives, leeks, shallots, scallions and garlic  are culinary sort of plants. The genus name for onions, Allium, means garlic but that doesn't mean that all alliums look, taste or smell like garlic. If you have ever seen chives bloom you know how pretty the lavender flowers can be and are well worth growing the plant even if you couldn't eat the leaves. It is not surprising, therefore, to find that there are many onions that can be grown in flower beds for the beautiful blooms they provide.
Alliums, or ornamental onions are excellent garden plants. They range in size from two inches to 4 feet and produce their flowers in clusters from a few inches in diameter to basket ball size. The tall ones have an architectural presence in the garden when they bloom and are striking in flower arrangements. No, the odor is not a problem unless you break or crush the leaves, and some species even have flowers with a mild fragrance of violets. Although many alliums produce lilac-blue flowers, some have white, pink, yellow, or multi-colored blooms. Most species have linear leaves that die back before or soon after blooming so they are best used with annuals or perennials that will fill in the space left by the alliums. And after the flowers fade you have beautiful seed heads for dried arrangements.
Alliums like plenty of light and rich, well-draining soil. They are seldom affected by disease and are deer- and rodent-resistant. Plant the bulbs in the fall and forget about them until spring when their flowers will magically appear on thin leafless stems suspended above the garden. Here are five interesting ones but there are many more available.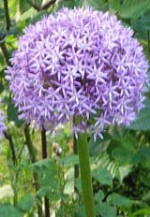 Allium albopilosum ( syn. A. christophii, Star of Persia)
My personal favorite for its huge globes of amethyst-violet florets highlighted with silver. Fabulous in the garden and stunning in both fresh and dried arrangements.
Flower Color: amethyst-violet with silver highlights.
Height: 18-30".
Size of Inflorescence: 8-12".
Bloom Time: June.
Hardiness: Zones 4-8.
---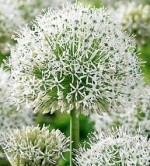 Allium stipitatum 'White Giant'
Looking very much like a white version of the Star of Persia, 'White Giant' produces hundreds of florets a large globe of white flowers with tiny black eyes. The flower head is a little smaller but are borne on longer stems, making a stunning sight. The thick strappy leaves remain green as long as the flowers are in bloom.
Flower Color: White with black eyes.
Height: 36-48".
Size of inflorescence: 6-8".
Bloom Time: May/June.
Hardiness: Zones 5-8.
---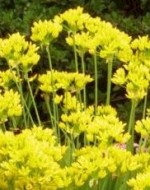 Allium moly 'Jeannine'
From ancient times A. moly has been though to have mythical properties and according to Homer, protected Ulysses in the Odyssey. Its yellow star shaped flowers are borne in golf ball sized cluster above lance shaped, blue-green leaves. 'Jeannine', an improved selection, has two stems, each bearing a flower head. Naturalizes easily.
Flower Color: Golden yellow.
Height: 10-14".
Size of Inflorescence: 2".
Bloom Time: Late May.
Hardiness: Zones 3-8.
---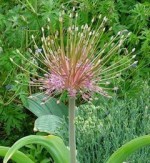 Allium schubertii
Get ready for fireworks because that's what A. schubertii resembles. Large clusters of rose-purple florets are arranged on stalks of unequal length to give a dazzling display. The flowers are replaced by fluffy seed pods. Suitable for forcing.
Flower Color: Rose-purple.
Height: 12-24".
Size of Inflorescence: 12".
Bloom Time: May/June.
Hardiness: 5-8.
---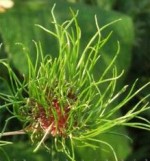 Allium 'Hair'
The strangest allium has been saved for last; admittedly, it's not pretty, but it's definitely unusual. The flower clusters are composed of long green tentacle-like petals loosely arranged around a purple center. A conversation piece in any garden.
Flower Color: Green with purple.
Height: 18-24".
Size of Inflorescence: 4-4 ½".
Bloom Time: June.
Hardiness: 4-8.
The flower clusters of the alliums are unique and add a new dimension to the garden. Produced in a variety of colors, there is probably an allium that would be a good complement for any plant in the border. They bloom after other spring flowers have declined but before most perennials and annuals are up and running and fade gracefully after blooming to make way for the summer display.