With the increasing interest in heirloom plants the prospect of finding heirloom narcissus in bulb catalogs is very appealing. The world 'Narcissus' is used here as the botanical name for all the spring blooming bulbs that are called narcissus, daffodils, and jonquils. The term heirloom means different things to different people but the narcissi described here have been grown since before 1900. This means they have been around for more than 100 years. Many gardeners consider any bulb 50 years or older an heirloom and this definition would allow the inclusion of many more bulbs. Many heirloom narcissi that have been introduced since 1900 would be somewhat familiar and perhaps not as unique and interesting.
The bulbs that are well over 100 years old look somewhat different than the ones we are accustomed to see and in many cases they are not has tough. Narcissus breeders have tried to produce bulbs that are more resistant to rot and heat, bloom earlier, and meet the demand of gardeners for bigger blooms. They have succeeded well in producing very beautiful and popular narcissi but there is something special about the old fashioned kinds. Here are five narcissi that were grown in past times, offer something unique, and are still available from catalogs and on-line sources.

'W. P. Milner'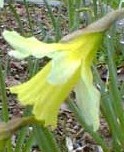 The diminutive size of 'W.P. Milner' would suggest that it be included with miniature daffodils but in fact it is considered a Trumpet Daffodil because of the long length of its trumpet. Its nodding head with the forward swept, curling petals create a look of informaility.
Year Introduced: 1869
Height: 5-6"
Color: Light yellow trumpet and perianth fading to cream.
Bloom Time: early-mid spring
Hardiness: Zones 4-7

Narcissus albus plensus odoratus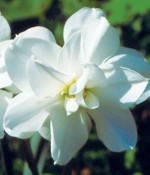 If you have studied Latin you know from the name of the bulb that it is white (albus), double (plenus) and fragrant (odoratus) and these adjectives give you the gist of what is special about this narcissus. One catalog describes the fragrance as "sinfull", certainly worth noting. Plant this near a bench or other seating and enjoy the fragrance while relaxing in the garden.
Year introduced: 1861
Height: 12-14"
Color: Snow-white perianth, frilled light yellow center trimmed with a red rim.
Bloom: Late spring
Hardiness: Zones 3-7

'Rip van Winkle'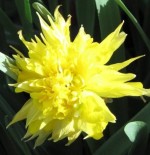 Another double, 'Rip van Winkle' looks more like a dandelion that a daffodil. It is diminutive in size but has such a unique appearance it is not likely to be overlooked.
Year Introduced: 1884
Height: 5-8"
Color: Yellow
Bloom: early-mid season
Hardiness: Zones 4-8

Poeticus var. recurvus (Pheasant's Eye)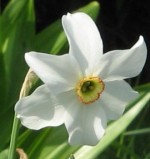 This is the true poeticus. Notice the large strongly recurved petals that give it an unusual look. It's sweet fragrance is a bonus. Pheasant's Eye is more tolerant of moist soils than other narcussi and is recommended for natural settings.
Year Introduced: 1650
Height: 10-13"
Color: White petals around a yellow cup edged with red with a green eye.
Bloom: Very late spring
Hardiness: Zones 3-7

Narcissus bulbocodium conspicuous (Yellow hoop Petticoat)


The golden-yellow funnel shaped cup in the center that looks like a petticoat to some, is surrounded by very small, twited, petals. The foliage is grass like and may look like errant turf that has tread into the garden when it first pushes up in spring. This unusual daffodil is good in pots as well as the garden were it naturalizes easily.
Height: 5-6"
Color: Golden yellow
Bloom: Mid-season
Hardiness: Zones 5-9
These five narcissi are not your typical ones and each has some very special attributes that make it stand apart in the spring garden. Perhaps you have noticed that 'King Alfred' is not on the list. True, it has been around since 1899, but it has been replaced by look-a-likes that have similar color and form but are better bulbs in terms of propagation and keeping qualities. The five narcissus described here are older than 'King Alfred' and have a particular charm that most modern bulbs lack.