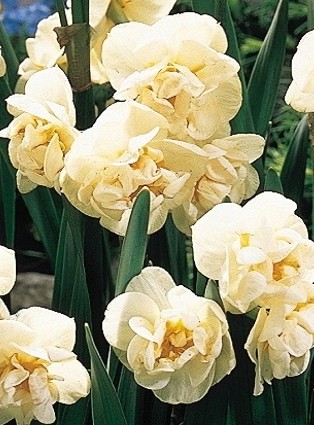 It is hard to resist the appeal of daffodils when they appear in spring and brighten up your garden after a gray cold winter. By selecting a variety of daffodils you can extend the season from early to late spring and provide ones for front of the border as well as for mid border. But have you ever considered choosing daffodils for fragrance? Some are much more fragrant than others and will add another dimension to the garden.
Here are five daffodils known for their superior fragrance:

Avalanche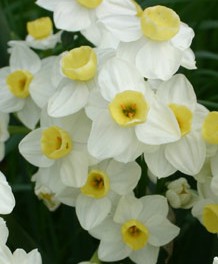 This heirloom tazetta daffodil introduced in 1906 was originally called 'Seventeen Sisters' because of its cascades of 15-20 small flowers on every stem. Each one inch flower has a bowl-shaped greenish-yellow cup surrounded by a creamy white perianth.
Height:
Bloom Time:
Hardiness:

Bridal Crown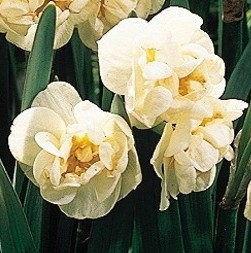 For a fancy, frilly look try this double narcissus with creamy-white flowers punctuated with saffron colored cup segments in the center. Each stem bears three to six florets creating a look of abundance.
Height:
Bloom Time:
Hardiness:

Actea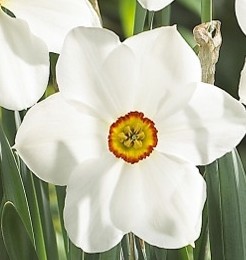 Traditionally known as one of the "Poet's Narcissus", Actea is an heirloom from circa 1919. It's flowers are three and half inches with a white perianth and small, shallow yellow cup, accented with a scarlet-red edge and a green eye. Actea is a great naturalizer.
Height:
Bloom Time:
Hardiness:

Baby Moon

For a late-blooming diminutive narcissus try Baby Moon. Producing multiple golden yellow flowers per stem, this jonquilla narcissus has grasslike foliage which is easy hidden while it matures. The flowers are small, no larger than a quarter, but the shear number makes a pleasing show.
Height:
Bloom Time:
Hardiness:

Passionale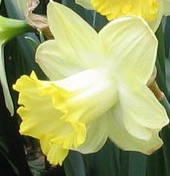 A large cupped daffodil, Passionale's flowers are borne singly and have a white perianth surrounding a yellow-pink cup with a delicately frilled edge. The cup will develop the best color in a cool site with filtered sunlight.
Height:
Bloom Time:
Hardiness:
These five different bulbs will ensure fragrant narcissus throughout the spring. Avalanche and Bridal Crown start off the spring and continue into mid season when Actea pick up the show. Passionale and Baby Moon, distinctly different in appearance, will bring a close to the daffodil season in grand style. Order bulbs in late summer, plant in the fall. Note that Actea and Passionale are not suitable for very warm climates.