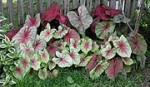 Caladiums are beautiful plants for shady spots but are tropical and so must be lifted and stored if you want them to return for another season. They are hardy only in zone 10 so are grown as tender bulbs or houseplants in most areas of the country. Here are the steps for digging and storing them:
1. Dig up the tubers before frost, shake off any soil that clings to them, and put in a sunny location to dry for 7 to 10 days. (Bring them inside if frost or cold temperatures threaten.)
2. Seven to 10 days after digging, snip off the leaves and brush off any remaining soil.
3. Store tubers in a container filed with dried vermiculite or perlite, at 60 degrees F or above.
Next spring, when the soil temperature is above 70 degrees F, plant the tubers in the garden and watch them grow into the beautiful plants they are.