Clerodendrums are shrubs, lianas, and small trees growing three to thirty nice feet high/long and native to subtropical and tropical regions in Africa and southern Asia. They belong to the mint family (Lamiaceae) that also includes lavender, rosemary, coleus, and deadnettle. There are about four hundred species but only a handful are cultivated, usually for their colorful or fragrant flowers. The tubular flowers are produced in clusters and have bright colored petals that attract hummingbirds and butterflies; some species also have colorful calyxes and fruit. Most species have large leaves. The genus name, Clerodendrum, comes from the Greek words kleros, meaning chance, and dendron, meaning tree, and refers to the variable medicinal qualities of some of the plants in the genus.
The most popular and widely available Clerodenrums includ:.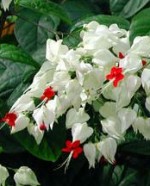 C. thomsoniae.
Also called bleeding heart vine, C. thomsoniae is a native to tropical West Africa. It has dark red petals surrounded by a white calyx and glossy dark green leaves five to seven inches long. Needs a rest period in winter.
Habit: Evergreen vine
Size: 12-15' H x 12-15' spread
Bloom Color: Red petals surrounded by white calyx
Light: Part shade
Hardiness: Zones 10-12
C. speciosissimum


A native of Java and Papuasia, this shrub is also known as Java glory bower. It has orange red flowers produced in large panicles and large velvety heart-shaped leaves that sometimes get a dingy gray exude on their undersides. In southwest China it has medicinal uses.
Habit: Evergreen shrub
Size: 4-12' H
Bloom Color: Orange red
Light: Full sun to partial shade
Hardiness: Zones 9-11
C. wallichii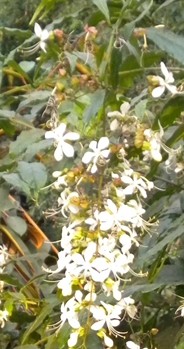 A native of India and Nepal, C. wallichii is also called bridal veil because of its long loose, pendulous panicles of creamy white fragrant flowers that appear in fall and spring. The narrow leathery leaves are pointed and four to nine inches long by ¾ inch wide. It produces suckers that rapidly expand the width of the plant.
Habit: Evergreen shrub
Size: 7-15' H x 6-10' W
Bloom Color: Creamy white
Light: Sun to part shade
Hardiness: Zones 9-12
C. splendens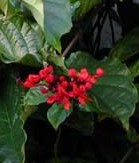 This woody or semi woody evergreen vine is native to western Africa and has bright scarlet flowers (sometimes white) that gave the plant its common name, flaming glorybower. The flowers are about one inch across and produced in dense terminal panicles up to five inches long. The glossy leaves are up to seven inches across and almost round. The plant climbs by twining and needs a sturdy support like a pergola. Unlike most other clerodendrums, C. splendens requires high humidity (60%) to avoid leaf edge browning, and very bright light.
Habit: Evergreen vine
Size: 12' long
Bloom Color: Scarlet (sometimes white)
Light: Full sun with some shade during the hottest part of the day
Hardiness: Zones 10-11
C. bungei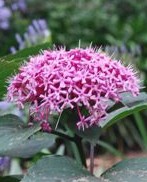 Native to China and northern India, this deciduous shrub is also known as Cashmere bouquet and rose glorybower. Its fragrant purple-red flowers are ¾ inch across and carried in dense terminal panicles up to six inches across. Blooms appear in late summer to fall and are attractive to butterflies. The leaves are up to twelve inches long and have toothed margins. They are dark green often tinged with purple are fuzzy bronze-green beneath. Plants sucker and may spread aggressively.
Habit: Deciduous shrub
Size: 3-6' H x 3-6' W
Bloom Color: purple red
Light: Full sun to part shade
Hardiness: Zones 7-10
C. quadriloculare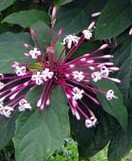 Also called shooting star and starburst, this shrub or small tree is native to the Philippines and New Guinea. In late winter to spring pink and white buds open to flowers three to four inches long with a coral pink tub and five recurved light pink or white petals and protruding stamens. The flowers are carried in terminal cymes eight to twelve inches in diameter and are attractive to hummingbirds and butterflies. The six to four inch long leaves are pointed and have slightly wavy margins. They are dark green with purple tint on top and glossy purple beneath.
Habit: Evergreen or deciduous shrub or small tree
Size: 12-15' H x 10' W
Bloom Color: Pink and white
Light: Full sun for best display but tolerates some shade.
Hardiness: Zones 9-11
C. paniculatum


Native to native to India, Sri Lanka, Malaysia and much of southeastern Asia, this semi-evergreen shrub is also known as pagoda flower because of the arrangement of flowers in the flowerheads. Although the specific epithet suggests that the flower heads are panicles they are actually thyrses. The tubular red-orange flowers are ½ to ¾ inches long and have five small lobes that are usually lighter in color than the tube. The flowers are carried in terminal pyramid–shaped clusters that are up to eighteen inches long. The glossy lobed leaves have a heart shaped base and are up to twelve inches across. Plants spread by suckers and can form extensive colonies.  They may die down in the winter but quickly grow back in the spring.
Habit: Semi-evergreen shrub
Size: 3-5' H x 2-3'W
Bloom Color: Red-orange
Light: Full sun but tolerates some shade
Hardiness: Zones 8-11