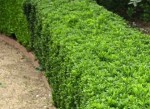 Broadleaf evergreen make particularly good privacy hedges because of their year-round leaves that block the view as well as add aesthetically to the garden. In addition to leaves that remain on the plant 12 months of the year, some broadleaf evergreens offer flowers and/or berries that can add beauty and attract wildlife. The most important attribute of a shrub used in a hedge, however, is that is responds well to clipping so it can be shaped and kept at the desired height.
Here are five broadleaf evergreen shrubs that are suitable for a hedge.

Holly Osmanthus (Osmanthus ilicifolius)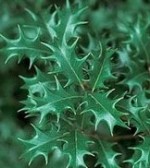 The holly-like leaves are dark and lustrous but the real treat comes in fall when the fragrant flowers bloom. Although small, their scent adds a special pleasure to the garden. Because the leaves are spiny, holly osmanthus makes an excellent barrier hedge as well as privacy screen or hedge.
Height: 8-10'
Light: Full sun to part shade
Soil: Average, moist, well-drained
Hardiness: Zones 7-9

Japanese Holly (Ilex crenata)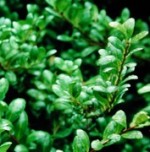 The small dark green leaves of Japanese holly are borne densely on the branches and resemble those of boxwood, Buxus sempervirens. Like boxwood, Japanese holly takes well to clipping and can be made into a formal hedge and topiary. Several good varieties can be found including dwarf forms.
Height: 4-10'
Light: Sun to partial shade
Soil: Average, moist, -well-drained, slightly acidic
Hardiness: Zones 6-8

Japanese Euonymous (Euonymous japonicus)

The lustrous 1-3" long leaves may be green or have white or yellow margins depending on the variety. The shrub is fast growing and takes heavy pruning well.
Height: 10-15'
Light: Sun to part shade
Soil: Average, well-drained
Hardiness: Zones 7-9

Indian Hawthorn (Raphiolepsis umbellate)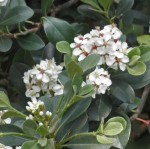 The clusters of small fragrant white flowers brighten the dark green leathery leaves in spring. The shrub tolerates a wide variety of soils and is fairly drought tolerant once established.
Height: 6'
Light: Full sun to partial shade
Soil: Average, moist, well-drained
Hardiness: 7b-10
Chinese Hibiscus (Hibiscus rosa-sinensis)

For the people that live in zones 9 and warmer, Chinese hibiscus makes a colorful hedge boasting large flowers 4-8" wide throughout most of the growing season. For the best performance, Chinese hibiscus needs plenty of water. The intensely colored flowers in white, pink, red and yellow are attractive to both hummingbirds and butterflies.
Height: 4-10'
Light: Full sun
Soil: Fertile, moist, well-drained
Hardiness: Zones 9-11
When planting a hedge select plants that suit your site. Check the hardiness to make sure the temperatures are appropriate for the plants you want to use, then make sure the plants light and moisture needs are met. All of the plants described above have outstanding foliage; some have flowers or berries that add an extra dimension to the hedge but their basic requirements must be met if they are going to create a beautiful hedge.