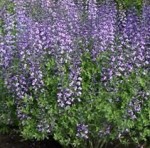 Baptisia, also called false indigo, is a long lived herbaceous perennial and a member of the legume family (Fabeaceae) that also includes mimosa, lupine, and black locust. There are about thirty five species of Baptisia native to southern and eastern US where they grow in woodlands and grasslands. The plants are branched and may become shrub-like, forming rounded mounds. The pea-like flowers are produced in spring to early summer and may be white, cream, yellow or blue depending on the species. They are carried in racemes above blue-green foliage and give way to gray or brown pods that persist into fall and are desirable for arrangements. The leaves are compound and have three leaflets with rounded tips. Plants grow best in rich, deep well-drained soil, with medium moisture and full sun to part shade but tolerate poor soil and drought once established. They are excellent back of the border plants especially where lower growing perennials can hide their naked ankles. Plants have taproots and resent being moved. The generic name, Baptisia, comes from the Greek word Bapto meaning to dip or dye and refers to the flower extract once used as a substitute for indigo.Here are six that are good for the garden: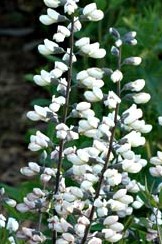 B. alba
Half inch long white flowers are carried on twelve inch long racemes on compact plants. They are often veined, or blotched with purple and persist three to four weeks.
Height:2-3'
Color: White
Hardiness: Zones 5-8
B. australis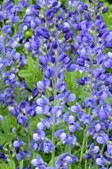 This species was once used for blue dye and now is the most popular species for gardens. The flowers are one inch long and carried on twelve inch long racemes for about four weeks in early spring. The brown to black pods are 2 ½ inches long, and appear in early summer, remaining until fall.
Height: 3-4'
Color:Indigo blue
Hardiness: Zones 3-9
B. pendula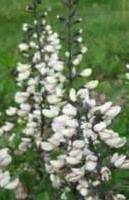 Similar to B. alba, this species differs by having pendulous seed pods. It may be a variety of B. alba
Height: 2-3'
Color: White
Hardiness: Zones 5-8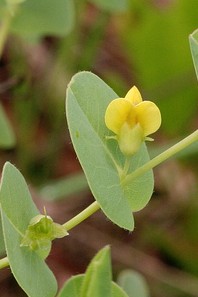 B. perfoliata
Unlike most other Baptisias, the leaves of this species are disc-like and pierced by the stem. The flowers are ¼ inch long and yellow.
Height:1-2'
Color: Yellow
Hardiness: Zones 7-9
B. tinctoria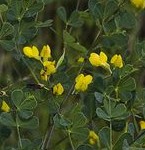 Originally used for its yellow dye, B. tinctoria is best grown in a meadow, informal garden or dye section of an herb garden. The flowers are cream to yellow and are carried in sparsely flowered racemes four to five inches long.
Height:2-4
Color: Cream to yellow
Hardiness: Zones 5-9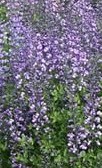 Baptisia 'Purple Smoke'
A hybrid from B. australis and B. alba, it 'Purple Smoke' has the flower color of B. australis and the charcoal stem of B. alba.
Height: 3-4 ½'
Color: Smokey purple-blue
Hardiness: Zones 4-9
Baptisia 'Carolina Moon'
A hybrid of B. sphaerocarpa x B. alba, this plant has yellow flowers on eighteen inch racemes.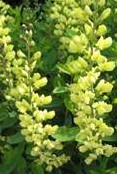 Height:3-4'
Color: Yellow
Hardiness: Zones 4-9