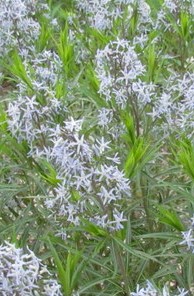 Blue and lavender flowers in the spring garden are a treasured commodity because they are often difficult to find. But the effort of ferreting them out is worth the trouble because they add so much to the border. The serenity and calmness they bring make the garden a welcome hide-away and their ability to harmonize with so many other colors makes them very versatile.
These perennials do well in a variety of environments and ae easy to grow.


Arkansas Amsonia (Amsonia hubrectii)
A native of Midwestern US, this wildflower adds color in spring with its flowers and in fall with its foliage. The star-like flowers and ¾" across and carried in loose clusters. The foliage is fine textured and dark green from spring until late summer when it turns a beautiful golden yellow.
Size: 24-36" h x 36-48" W
Light: Full sun to light shade
Soil: Average, moderately moist, well drained; drought tolerant
Hardiness: Zones 5-9
Jacob's Ladder (Polemonium caeruleum)


The pinately compound bright green foliage is composed of up to twenty-seven leaflets arranged like a ladder, and forms a dense mound. Starting in late spring the blue flowers with contrasting yellow stamens are produced in loose nodding terminal clusters. Jacob's ladder is a cool weather plant and not suitable for the Deep South.
Size: 18-30" H x 18-24" W
Light: Full sun to partial shade
Soil: Average to rich, moist, well-drained
Hardiness: Zones 3-7
Bearded Iris (Iris hybrid)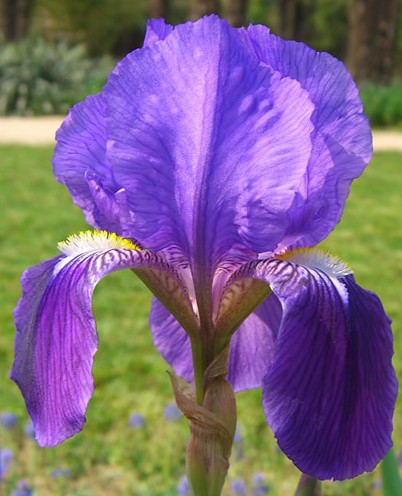 No matter what shade of blue or lavender you need or want, there is a beareded iris to fill the bill. You can also have bicolored ones or solid colored flowers with contrasting beards. The blue gray foliage is stiff and sword-like. Bearded iris bloom before Siberian iris so planting both prolongs the iris display.
Size: 8-36" x 10-24
Light: Full sun
Soil: Average, well-drained
Hardiness: Zones 4-9
Siberian Iris (Iris siberica) 'Perry's Blue'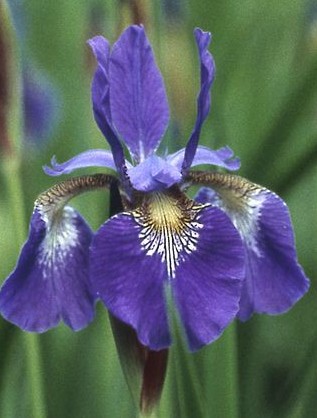 There are many handsome blue Siberian iris but 'Perry's Blue' is one of the best with its medium blue flowers one to two inches across. Plants produce several stems each bearing over twelve flowers. The leaves are slender, stiff, and sword like. Although Siberian iris prefer boggy soil they do well in gardens if not allowed to dry out.
Size: 36" h x 24-36" W
Light: Full sun to partial shade
Soil: Average, moist, well-drained, slightly acidic
Hardiness: Zones 3-9
Columbine (Aquilegia x hybrida Music Series)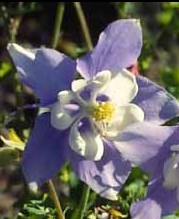 The unique form of columbine flowers is unsurpassed and the Music Series provides large flowers with extra long spurs. They come in many different colors including blue with a white center. The leaves are pinnately compound and held on long stems (petioles) to form an erect clump..
Size: 18-24" H x 18-24" W
Light: Light to moderate shade
Soil: Average to fertile, moist, well-drained
Hardiness: Zones 3-9