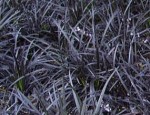 Plants with purple foliage are a great plus to the garden. Even after their flowers fade, their foliage goes on to provide color all season long. And the color purple is especially valuable because it provides a transition color from one plant to another while enhancing all the other colors around it. Imagine your favorite purple leaf plant with pink roses, red dahlias, orange daylilies, or yellow black-eyed Susans. Wow, the flowers all seem to sparkle; they are brighter and pop out against the darker background. After the flowers fade you still have purple leaves giving color to the garden but even better is the fact that you have the perfect companion for the mums that fill the autumn garden with fall colors. Here are my top five favorite purple leaved perennials.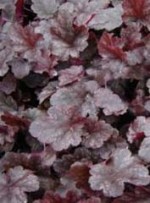 http://kyleschen.com/2010/09/01/givers-takers/ Coralbells (Heuchera 'Plum Pudding')
I am especially fond of heucheras and there are several that offer purple foliage. 'Plum Pudding' has dark purple leaves with silver mottling. Looks good as an edging plant in formal or informal gardens adding textural interest as well as color. Good container plant too.
http://debashishbanerji.com/consciousnesswriting/traditions-of-yoga-in-existential-posthuman-praxis-response-to-francesca-ferrandos-philosophical-posthumanism/ Size:
1' H x 18" W (flower stalks 18"H).
Bloom:
Small white or pink flowers in late spring-early summer.
Light:
Full sun with consistent moisture or part shade.
Soil:
Fertile, humusy, acid, well-drained.
Hardiness:

Stonecrop (Sedum 'Purple Emperor')

The pink flowers of this sedum are a big bonus! They are produced a little earlier than many of the other similar sedums and are beautiful with the purple color of the leaves. 'Purple Emperor' seems to thrive in poor, moderately dry soil and may flop if grown in soil that is too fertile or moist. Don't let's its lovely appearance fool you into coddling it.
Size:
Bloom:
Small purple-pink flowers are borne in clusters in late summer.
Light:
Soil:
Average to poor, moderately to dry, well drained. Drought tolerant.
Hardiness:

Beard Tongue (Penstemon digitalis 'Husker Red')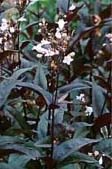 Chosen 1996 Perennial of the Year by the Perennial Plant Association, 'Husker Red' has a lot to offer. It has purple-red leaves borne on wine red stems and tubular white flowers that create an airy mass above. It is a vigorous grower and just wants full sun to develop its lovely red color.
Size:
Bloom:
Small white tubular flowers are born on erect stalks above the foliage in late spring-early summer.
Light:
Full sun to part shade but develops best color in full sun.
Soil:
Prefers light, humusy, well-drained soil but tolerates less.
Hardiness:

Bugbane/Cohash (Cimicifuga racemosa 'Atropurpurea Hillside Black Beauty')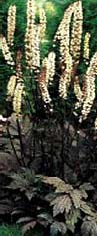 If you want a tall statuesque plant with purple foliage that grows in the shade this is the plant for you. The tall clumps of fern like foliage send up 30" wiry stems of small densely packed white flowers in the fall. These wands of white stand out against the dark foliage in the shade and make a striking display.
Size:
Bloom:
Small white flowers are borne on long stems in fall.
Light:
Soil:
Hardiness:

Black Mondo Grass (Ophiopogon planiscapus 'Nigrescens')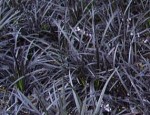 For a low growing edger in a shady area consider spunky black mondo grass. Its dark purple color is outstanding and its fine texture provides visual interest when played against large leaved pants such as hostas. Choose light green hosta and stand back for a visual treat. If you carefully look in summer you may see the small lilac to pink flowers hidden in the leaves but it is the foliage that makes this plant an asset to the shade garden.
Size:
Bloom:
Small lilac to pink flowers in summer.
Light:
Soil:
Hardiness:
Tall or short, in shade or sun, there are plants with purple foliage that can give color to the garden most of the growing season. Some do double duty with flowers that add to their beauty but all are worth growing for their foliage alone.