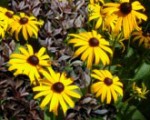 The problem of air pollution is getting better as more people begin to understand the negative impact on their lives but not all areas have clean air. Unfortunately there are still areas in our country, especially those near industrial centers that have serious problems. Air quality can affect the plants you grow in your garden and some plants will not grow on sites that suffer from air pollution. Fortunately there are some great perennials that will thrive in spite of conditions that might leave you gasping or at least wishing for better air.
Here are 10 fairly common perennials that will do well  in moderately polluted air:

Cornflower (Centaurea montana)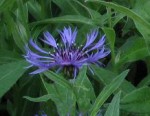 The large delicate unique heads of flowers are a show stopper in any garden. The plants look especially well among flowering shrubs where it will naturalize and may reseed rambunctiously. Vigorous and easy to grow, cornflower is trouble free and makes a great addition to summer bouquets.
Bloom: Blue, pink, or white in late spring to early summer.
Size: 20" H x 24" W.
Hardiness: Zones 3-8.
Soil: Average, well drained; prefer alkaline soil.
Light: Full sun.

Aster x frikartii 'Monch'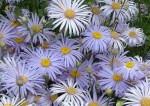 The very long bloom season of this easy to grow perennial makes it one of the best perennial for any garden. Its cool lavender-blue color blends with most other plants so that it can be used to advantage in any garden. It looks equally well in a prairie or meadow garden, a formal border, or on the edge of a woodland. The rough textured foliage is attractive and disease resistant.
Bloom: Lavender blue, 2½" across are produced on branches from mid summer to autumn.
Size: 3' H x 18" W.
Hardiness: Zones 5-8.
Soil: Average, well drained soil.
Light: Full sun.

Kansas Gayfeather (Liatris spicata)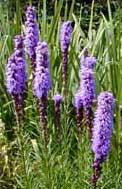 Small sessile flowers open progressively from top to bottom for several week during the summer adding a strong vertical accent to the border. The purple colored ones goes especially well with soft yellow colored flowers of such perennials as corepsis 'Moonbeam and some of the hybrid goldenrods. Liatris makes a good cut flower used by the florist industry.
Bloom: Mauve, purple, or white flowers are borne on tall spikes during mid summer.
Size: 2-3' H x 2' W.
Hardiness: Zones 3-9.
Soil: Average, well drained.
Light: Full sun.

Goldenrod (Solidago hybrids)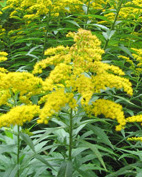 Shorter than the road side varieties, the hybrids offer variations in height, and a great amount of color for the border in late summer to early fall. They look especially well in a meadow garden and go well with black-eyed Susan "Goldsturm.
Bloom: Small deep yellow flowers are borne in finger-like racemes from late summer into fall.
Size: 18"-6' H.
Hardiness: Zones 4-9.
Soil: Humusy,, moist, well drained.
Light: Full sun.

Black eyed Susan (Rudbeckia flulgida 'Goldsturm')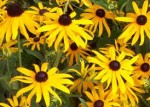 A reliable and undemanding plant that looks especially great with grasses in a prairie like garden. The plants are very floriferous and can create a mass of color in a short time. Although it prefers sun it will tolerate some shade and is drought resistant once it reaches its full size. They are good cut flower and make a wonderful rustic looking bouquet..
Bloom: Golden yellow with dark brown eye in center; beginning in July and often continuing into fall.
Size: 24-26" H x 24-36" W.
Hardiness: Zones 4-9.
Soil: Average well drained.
Light: Full sun.

'Coronation Gold' Yarrow (Achillea 'Coronation Gold')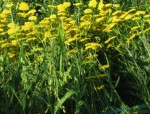 The intense yellow color of the flower heads make a striking statement when grown in mass and work well with other strong colors. The fern-like gray green foliage is an asset and will form a beautiful tuft if the flowers are removed after they fade. This plant will do well in almost any well drained soil and needs no special care or pampering.
Bloom: Small golden yellow flowers are born 3-5" flower heads between June and September.
Size: 24-36" H x 24-36" W.
Hardiness: Zones 3-9.
Soil: Average to poor, well drained.
Light: Full sun.

'Alma potschke' New York Aster (Aster novae-anglieae 'Alma Potschke')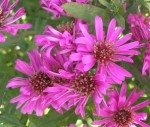 This great aster produces an abundance of vivid pink daisy like flowers on compact plants for about six weeks. While most asters much be pinched back to perform well this aster will be covered with flowers even if you never touch it. Insects avoid it, but like other asters, mildew can develop if the weather turns damp, although 'Alma Potschke' is more mildew resistant than the species. No need to plant this one in rich soil or fertilizer, it will stand up better in lean soil.
Bloom: Bright pink daisy like flowers are produced in late summer into fall.
Size: 3' H x 3' W.
Hardiness: Zones 4-9.
Soil: Averge, slightly acid, moist.
Light: Full sun.

'Gibson's Scarlet' Cinquefoil (Potentilla 'Gibson's Scarlet')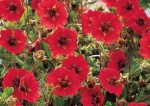 If you garden needs an intense red to give it zing in summer, this is a plant to consider. The scarlet red is great paired with intense yellows or cool blues and makes a good addition to rock gardens or other areas that are hot and dry. The strawberry-like leaves create dense mats and look attractive all summer.
Bloom: Scarlet red 1" wide flowers in summer.
Size: 18" H x 24" W.
Hardiness: Zones 5-9.
Soil: Average, loose, well drained.
Light: Full sun.

Fringed bleeding heart (Dicentra exima)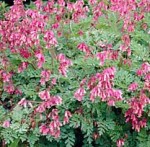 If your garden is shady this is a must have plant. It will start blooming early in the spring and just keep on blooming until frost. Well, I have to admit that it make take a rest if the temperatures rise too high but even then the finely dissected blue-gray foliage is an attractive all season.
Bloom: Pink or white flowers hand from graceful stems from spring until fall.
Size: 12-18 " H x 12" W.
Hardiness: Zones 3-8.
Soil: Fertile, moist, slightly acidic, well drained.
Light: Full to partial shade; can tolerate more sun if kept moist.

Bugleweed (Ajuga reptans 'Catlin's Giant')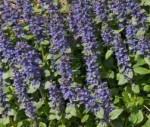 Bugleweed is excellent used as a ground cover or around shrubs and under trees as it tolerates both shady and droughty conditions and can grow well even on poor soils. Give it good air circulation to avoid rot and it will spread its rosettes of bronze greens leaves, quickly choking out unwelcome weeds.
Bloom: Clusters of small blue flowers in spring.
Size: 4-8" H x 12-24" W.
Hardiness: Zone 4-8.
Soil: Average, moist, well drained.
Light: Full sun to part shade.
There are many plants that are tolerant of polluted air and these are just a few. They represent a sampling of easy to care perennials that tolerate a variety of light, soil, and moisture conditions as well as provide a range of color and heights. If poor air quality is an issue in your area, take heart, there are plenty of good plants that will thrive in your garden.