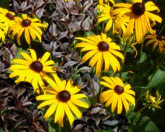 Have you ever thought of growing mocha colored plants? Yes, they are brown. Yes, they will look like dead plants to some people but they are very unique and when several are grown together create a beautiful and interesting combination in the garden.  Mocha is a great color for setting off bright colored flowers;  think about red, yellow, orange or chartreuse flowers or leaves.  Of course, not all mocha is the same color and not all mocha colored plants are either. Even individuals of the same kind of plant may vary because of differences in temperature, sunlight, and age of the leaves so you may have many different shades of mocha when you design with these wonderful plants. They are not for everyone but for the gardener that wants something special and memorable they are definitely worth a try.
Here are my five favorite mocha colored plants.
'Toffee Twist' Sedge (Carex flagellifera 'Toffee Twist')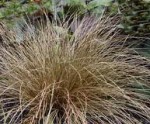 There are many different species of sedge that have brown foliage so check out your favorite garden center or farmers' market to find one. Their long thin fine leaves and arching growth habit look terrific with upright plants or ones with rounded leaves.
Size: 1 ½ -2' H x 1-1 ½ ' W
Bloom: None
Light: Sun to partial shade
Soil: Moist, well drained.
Hardiness: Zones 7-10
'Mocha' Coral bells (Heuchera villosa 'Mocha')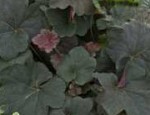 There are several different heucheras that have leaves of various shades of mocha but the one with the darkest brown leaves is 'Mocha'; they turn almost black as they bask in the sun during summer and made a nice contrast with the white or cream flowers. The foliage, however, is the real reason for growing heucheras, and this one is no exception. 'Mocha' is especially heat tolerant and disease resistant.
Size: 10-15" h x 15-24" W
Bloom: Small white to cream flowers borne on slender stems in summer.
Light: Full sun to part shade.
Soil: Average, moist, well drained
Hardiness: Zones 4-9
'Midnight Wine' weigela (Weigela florida 'Midnight Wine')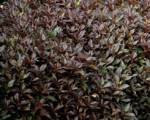 This dwarf, mound shaped weigela boasts purple-brown leaves that are a perect backdrop for pink flowers. This sweetheart of a plant is no friend to deer but offers a special treat for butterflies and hummingbirds. A good alternative to 'Pigmy' barberry.
Size: 1.5-2' H x 1.5-2' W
Bloom: Reddish pink flowers in spring.
Light: Full sun.
Soil: Moist, well drained.
Hardiness: Zones 5-8.
Diablo ninebark (Physocarpus opulifolius 'Summer Wine')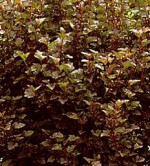 This deciduous shrub is a good choice for back of the border where it can form a luscious backdrop for other plants but it is also good as a hedge or mass planting. The flowers are followed by clusters of red seed pods for winter interest but the exfoliating bark is the main act during the cold winter months.
Size: 4-6' H x 4-6' W
Bloom: Pinkish white in late spring to early summer.
Light: Full sun to part shade.
Soil: Average, moist to dry, well drained.
Hardiness: Zones 3-7.
'Helmond Pillar' Japanese barberry (Berberis thunbergii 'Helmond Pillar')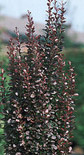 This slow growing narrow barberry makes a striking vertical accent in the garden with its mocha colored foliage. Shiny, bright red berries that persist into winter follow the small yellow flowers that are often borne underneath the leaves.
Size: 4-5' H x 1-2' W
Bloom: Tiny yellow flowers in spring.
Light: Full sun.
Soil: Average, medium to dry, well drained.
Hardiness: Zones 4-8
A little experimentation with these and other plants with complementary or contrasting color can bring new zip to your garden.  The ones I have chosen all have mocha colored foliage and would be especially nice if grown with plants that had brown flowers or flower parts.  Imagine coneflowers, cattails, or black-eyed Susan as companions for mocha colored plants.  Red zinnias or orange marigolds would pop in this setting.  Or the mocha foliage can be set off with the chartreuse foliage of a plant like spirea "Lemon Pricess'  to make a dramatic accent. Marvelous!