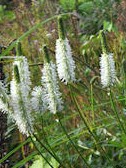 Also known as burnets, the Sanguisorbas are herbaceous perennials or small shrubs and belong to rose family, Rosaceae that also includes cherry, almond, and lady's mantle.   They are native to temperate regions of North America where they grow best in sunny sites with cool damp soil. Pinnately compound leaves with serrated margins form a clump that produces bottlebrushes of flowers on erect or arching stems. The flowers usually lack petals and consist of four white to red petal-like sepals and four long stamens. The generic name comes from sanguguis meaning blood, and sorbere, meaning soaking up and refers to the belief that the plant can stop bleeding. Of the thirty species in the genus, one is used to flavor salads (S. minor), one is a medicinal herb (S. officinalis), and five are grown for their floral display.
Salad Burnet (S. minor)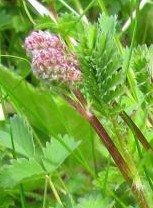 With the flavor of cucumbers the leaves of salad burnet add a touch of freshness to food. The pink flowers are produced in roundish heads during the summer.
Height: 12 – 18″
Flower Color: Pink
Hardiness: Zones 4-8
Giant Burnet (S. officinalis)


Although grown primarily for its medicinal qualities, giant burnet bears attractive 1.5" long spikes of dark red to purple flowers. The leaves have a cucumber flavor and can be eaten just like those of salad burnet.
Height: 36"
Flower Color: Dark red to dark purple
Hardiness: Zones 4-8
Canadian Burnet (S. canadensis)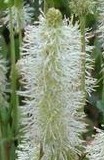 The white flowers are carried in cylindrical spikes three to eight inches long. Thrives even in boggy soil.
Height: 4-6'
Flower Color: White
Hardiness: Zones 3-8
Lilac Squirrel (S. hakusanensis)


This native of Japan produces spikes if pink lavender flowers 1.5 to 4 inches long on arching stems over gray-green scalloped leaves .
Height: 30"
Flower Color: Pink-lavender
Hardiness: Zones 4-9

Alaskan Burnet (S. menziesii)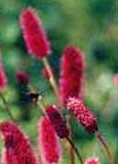 Spikes of red flowers three to four inches long are carried on erect stems over lacey blue green foliage.
Height: 29-35
Flower Color: Maroon
Hardiness: Zones 2-9

Japanese Burnet (S. obtusa)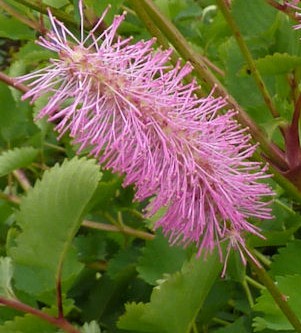 Considered by some to be the most ornamental burnet, it has gray-green leaves and spikes of reddish pink flowers four inches long. The variety albiflora has white flowers.
Height: 24-48
Flower Color: Reddish pink
Hardiness: Zones 4-8
S. tenuifolia


Two varieties can be found, var. alba with white flowers, and var. purpurea with dark red flowers. Both varieties carry their flowers in spikes ¾ to 2 ¾ inches long.

Height: 4-6'
Flower Color: White or dark red
Hardiness: Zones 5-9